One killed , another injured in Ponnagyun landmine blast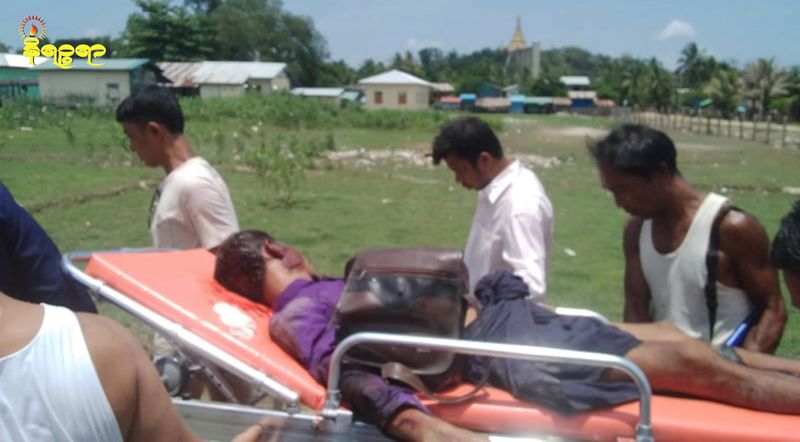 Saung Zarchi

Narinjara News, 2 June 2020:
At least one person was killed and another injured in a landmine explosion that took place near Minchaung bridge of Ponna Kyunt town, 16 miles north of Arakanese capital city of Sittwe, today at 11:30 am.

The victim has been identified as Zaw Min Oo (38 years old) from Nadaung Kya village under Ponnagyun township, who died on the spot.

On the other hand, Win Naing Soe (47) from Ponna Kyunt town received injuries, informed Zaw Zaw of Ponna Kyunt township youth development association.

"Injured Win Naing Soe was a motorcycle carrier. The incident took place when he was driving the motorcycle. The deceased rented it for reaching his village. As they were travelling, an explosion took place on their way," said Zaw Zaw.

He also added that Zaw Min Oo's body and injured motorbike carrier Win Naing Soe have been taken to Ponna Kyunt hospital by the noon.

The blast took place on Sittwe -Yangon expressway, informed U San Shwe Kyaw, a community leader of Ponnagyun locality. He also claimed that they could hear the sound of explosion.

Khaing Maung Latt, a national assembly representative was contacted for information. He revealed that soon after the explosion, the security forces prohibited a number of vehicles from moving on the road.
In an RFA (Burmese) report, it is stated that Arakan Army members planned to attack the Burmese security forces with landmines, but Narinjara cannot confirm it as it did not have immediate access to the armed outfit. Meanwhile, the Myanmar authority has warned the local media against any contact with AA spokesman.