226 job seekers from Myanmar caught for illegal entry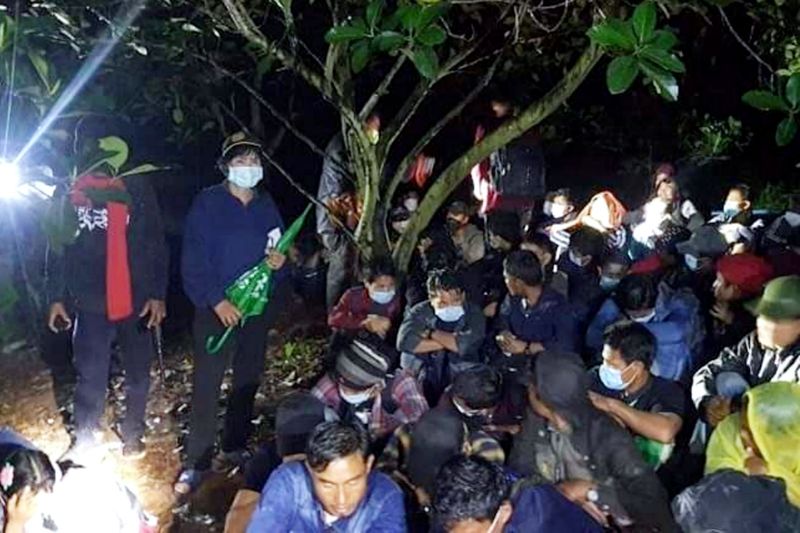 writer:

Chaiwat Satyaem

/ Bangkok post /19 Feb 2022 at 19:25
A total of 226 job seekers from Myanmar were caught for illegal entry in two locations in Muang district of Prachuap Khiri Khan early Saturday.
Officials manning Khao Din security checkpoint in tambon Ao Noi of Muang district rushed to a natural border crossing around 2am after being alerted by local residents who spotted many border crossers there.
The officials managed to arrest 145 Myanmar nationals - 96 women and 49 men.
Under questioning, the detainees said they were from Mudong village, opposite of the Singkhon border pass. They wanted to get jobs in Samut Sakhon, Ratchaburi and Bangkok. They had paid 20,000 baht each to job brokers.
They also said that several thousand job seekers in their village had planned to slip across the border.
Another 81 Myanmar job seekers were caught near Chong Sib Sop natural border crossing in Muang district.
Soldiers from the Chong Ang Suek task force deported all 226 illegal migrants to Myanmar via the Singkhon border pass on Saturday. They were picked up by Myanmar soldiers at the border, according to a border source.
Adisorn Kerdmongkol, a representative of a migrant labour development network, recently estimated that 80,000 illegal border crossers, the vast majority of them from Myanmar, were caught in Thailand last year. As many as 100,000 more probably slipped past the authorities and were now employed in major provinces, he added.
Prime Minister Prayut Chan-o-cha has said all parties involved should step up efforts to register workers from neighbouring countries so that they can be employed legally in Thailand, where a labour shortage is threatening the economic recovery.
The Federation of Thai Industries has said that the country faces a shortage of about 800,000 migrant workers needed for the manufacturing, service and tourism sectors.
(Many job seekers from Myanmar are caught along a border area in Muang district of Prachuap Khiri Khan province early Saturday. There are among 226 Myanmar nationals caught for illegal entry. Photo: Chaiwat Satyaem)