Both Gunshots Wounded from Kyauk Tam and Lark Kar Villages Died in Yangon Hospital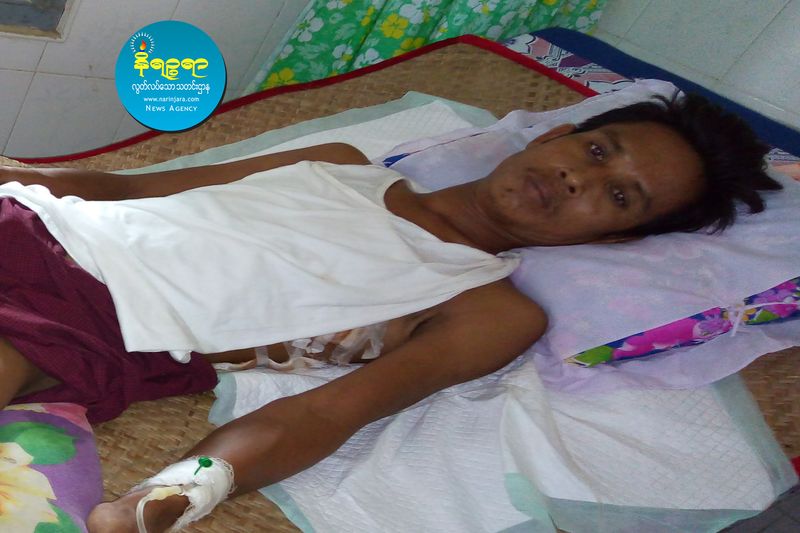 By Thein Zaw ( Mgdaw), 16 May 2019
The two villagers from Lark Kar Village of Mrauk Oo, and Kyauk Tam Village of Rathaedaung Township, who were shot during the firing by Burma army, have died due to critical conditions while receiving medical treatment in Yangon hospital.
One of the victims, U Oo Kyaw Thein (63) years old from Lark Kar Village of Mrauk Oo who was hospitalized in Yangon 500 – beds Hospital with bullet wound, passed away on May 15 early 6:00 am local time while another sick person, U Aung Linn Kyaw (38) years old from Kyauk Tam village of Rathaedaung Township, died in May Dar Wei Special Hospital in North Okkalapa on May 14 evening, receptively.
Ko Than Kyi from Yangon Social Group said ' U Aung Linn Kyaw was shot and the bullet hit his heart. At first, he was quit fine. All the specialists and doctors gave intensive care him. In early morning, he found it difficult to take a breath. All the doctors tried to recover respiratory systems. Despite such efforts, he could not survive and died at about 3:50 am''.
In the meantime, Daw Hla Than Nyunt, the spouse of late U Aung Linn Kyaw has been taken to the relatives of Rathidaung Township as she has been expecting for her mature Pregnancy.
Ko Min Saw, the younger brother of U Aung Linn Kyaw has confirmed that the remaining body of U Aung Linn Kyaw was taken to his native from Yangon.
However, Ko Kyaw Chay, the son of U Kyaw Thein, told Narinjara News Media, 'My dad died in the morning of May 15. He has been being hospitalized for about one month. The bullet was not taken from the main part of the body. Moreover, the blood in lung was frozen. Now, the remaining corpse has been sent to Yangon Hospital mortuary as the funeral will be taken place in Yangon tomorrow.
In April, due to the escalation of violence in Mrauk Oo and Lark Kar village, the whole villagers fled and U Kyaw Thein was one of the victims among the displacement and sheltered in Baung Dwet village. Unfortunately, he was shot while he was sleeping by army. U Maung Kyaw Sein, (62) years old man, from the Baug Dwet village, was also asleep next to him, died on the spot.
However, U Aung Linn Kyaw was wounded during the shooting by army on early morning May 2nd riot in Kyauk Tann village. He was taken to Yangon due to critical condition on May 12th before he passed away on May 14.
(Photo : The photo was taken before U Aung Linn Kyaw's death)