All 24 Lark Kar Villagers were remanded in Custody at Sittwe Court Again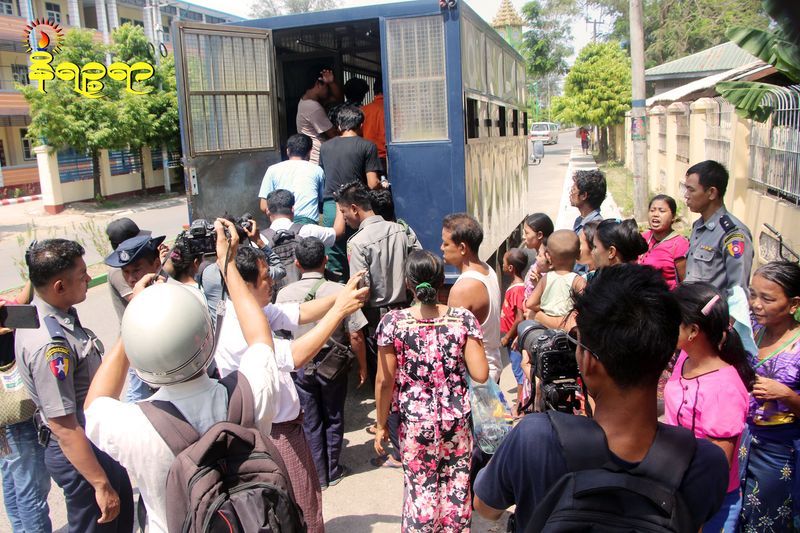 By Kaung Mrat Naing ( Maungdaw), 17 May 2019:
All accused 24 Lark Kar Villlagers from Mrauk Oo were remanded in custody at Sittwe Court as second time on May 17 as the case hearing will be on May 31 again at Sittwe Court. The first time was remanded in custody on May 2nd.
The accused villagers were detained again after the extension of remand as they were charged with Anti-Counter-Terrorisms law's Article (50) (I) and (52) (A) by Myanmar Army.
There had been some abusive rights and barbaric tortures which against humanity such as not feeding food nor water while the villagers were under arrested, the arrested Families told the media.
According to the information release by Myanmar Army, some suspected 23 people were detained after the fighting between Arakan Army and Myanmar Army on the high way of Sittwe – Yangon near Lark Kar village the next day after April 10 as AA attacked on Mrauk Oo Police Force.
The mother of a accused said, ' My son is just 17 years old and has taken matriculation exam. He was accused of being AA without any reason. He is innocent and no connection with any one. So, I hope he will soon be freed'.
However, it has been known that Ko Zaw Myo Tun (25) from Youn Chaung village, U Thein Tun Sein (35) and U Maung Thann Nu (41) from Lark Kar village all have been killed in the counter operation by Myanmar Army according to the confirmation from Sittwe People Hospital and No (2) Police Station on April (25) while U Oo Kyaw Thein (63) years old from Lark Kar Village who was hospitalized in Yangon 500 – beds Hospital with bullet wound, passed away on May 15.