A Young Girl Shot Dead and Four Civilian Wounded in Kyuak Taw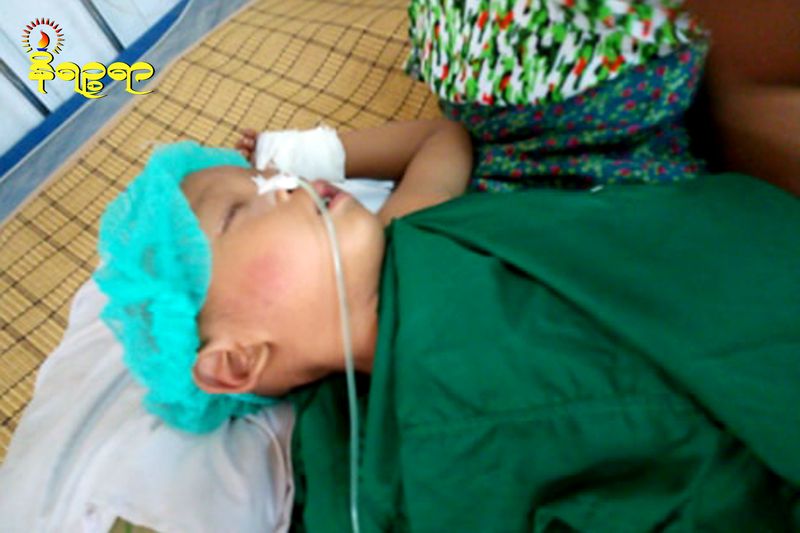 Thein Zaw ( Maungdaw), 21 May 2019
A – 10- year – old girl was reportedly shot dead and left four family members wounded including three children in Kyauk Taw, Myauk Taung and Mar Hlar Villages shooting yesterday.
The daughter of U Kyaw Zaw Hla named Ma A Thein Chay was struck by bullet in her left - side - head and a family from Mar Hlar Village Daw Ma Aung Htwe (28) and her three sons, Maung U Naing Lin (10), Maung Khine Lin Zaw (8) and Maung Khine Lin Htay (3) were also injured. Both mother and 3-year-old boy are in critical condition and being hospitalized in Sittwe.
'Daw Hla Thein Yine, the mother of the victim said, 'My son and daughter came back from monastery after donation yesterday evening. On the way back from the mountain dawn, they were shot as the soldier shouted 'enemy'. My daughter died on the spot and my son managed to escapes.
The gunshot wounded mother Daw Ma Aung Htwee confirmed that the shooting took about forty minutes.
She added that ' I saw about 10 military convey vehicles was on their way to Palawa to Kyauk Taw. I was at home about to bath pigs. Suddenly, I heard and saw the shooting by army towards the village. My leg was hit by bullet when I run away to my brother house. I am not sure whether there is real fighting or not. But, all my three sons were wounded and the youngest son is so serious.'
The spoke person from Western Command, Colonel Win Zaw U said 'I don't know whether they are injured or not. The battle took place around the area. If there are some injured people, every one said it is by Myanmar Army. Actually, we just response it as AA began to attack on us.'