Pieces of Dead Bodies Found in Clashes Area of Rakhine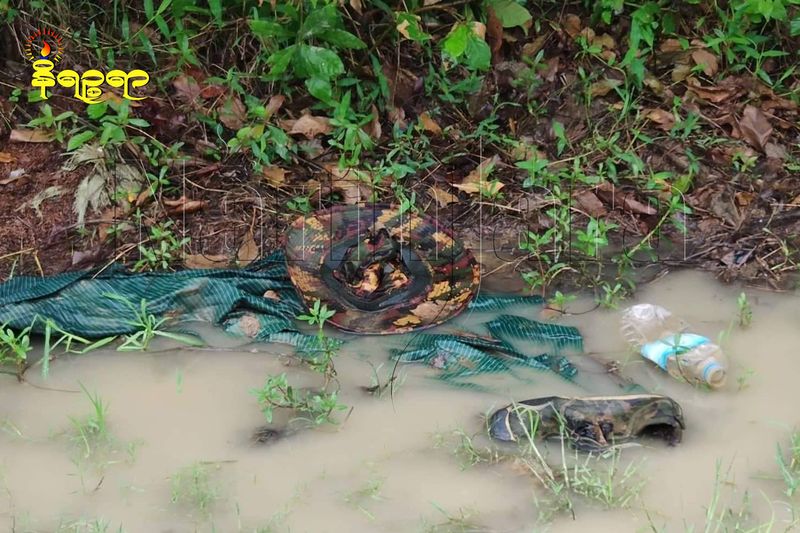 Thein Zaw (Mgdaw), 17 June 2019
Concerns have been raised among the local villagers in clashes areas of Min Bra and Ponnagyun Townships after finding pieces of dead bodies the villagers said.
The witnessed residents nearby Sabarhtar villages of Min Bra Township and Yoe Ngu and Kyauk Seik of Ponnagyun township said that the buried bodies and its pieces such as limbs and abdomens were fear seen with the Tatmataw (Myanmar Army) uniforms on the ground.
U Myo Zaw Aung, the village administrator of Sabarhtar said that 'The fighting broke out on June the third near the village. The dead bodies may have been buried nearby the village and now its pieces appeared out on the ground. Moreover, some unexploded artillery shells and Tatmataw uniforms are recognizably seen which made the villagers get scared. That's why, we have submitted informed letter to the authority for the removal of them'.
U Hla Thein Aung, Rakhine State Member of Parliament confirmed that after his visit as he saw the pieces of corpses and unexploded weapons shells.
Asked about the finding of them, Army spoke person Brigadier General Zaw Min Htun , told The Narinjara News that ' We can't exactly identified yet whether the corpses belong to Tatmataw or not because there was no fighting on June the third'.
It was reportedly learned that Six villagers died and eight others critically wounded in monastery (evacuation-center)when the weapon shells hit while the villagers sheltering after hearing the tremendous explosion nearby the village on June 3. The funeral of the killing corpses of the villagers were held and graved after a few days of the clashes at the village's cemetery.
Meanwhile, the pieces of the three soldiers' corpses were similarly seen by the residents beside the railway between Yoe Ngu village and Kyauk Seik village of Ponnagyun township. However, the Narinjara News has not confirmed it yet whether the dead bodies were related with Thatmadaw or not.