More than 2000 villagers flee to Poe Re Byin Village , Ponnagyun TSP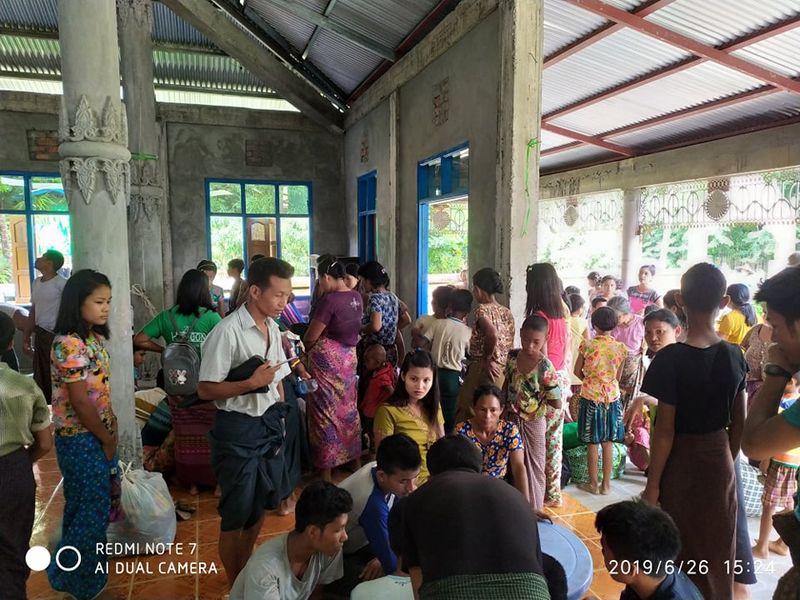 Nin Wai Wai Kyaw, 28 June 2019

More than 2000 people from Son Thae and Alw Ra Ma villages have fled fighting between tha Tatmadaw (Myanmar Army) and Arakan Army to Poe Re Byin village of Ponnagyun township yesterday, said Ko Kyaw, the spoke spokesperson from Poe Re Byin village's (Maharmate) social organization.

"1750 people have registered in the village's monastery and other 400 are staying at their relatives. So far our organization and the host villagers take responsibility for the displaced people. But, it may be a big problem in the long term. Cause, it may cost about four millions kyats per day for 2000 people'" said Ko Aung Than, from the social organization.

He added that the displaced villagers, however, look forward returning home if the situation is stable.

A young girl who fled away from native Son Thae village said, " I am here with my mum and daddy. So far, it is ok here for our three as the host Mahar Mate social organization take care us. But, we need proper blanket, mosquito nets and mats. If the fighting is worse we hope to be here again. I wish, go back home."

Anyone who are interested to help and contribute for the displaced people, can contact to 0941000163, Ko Aung Than and, 09442800708 Ko Kyaw from Poe Re Prin Village (Maharmate) Social Organization.