Military Denis the Arson Attack on Pyithu Hlutaw MP's Relative Houses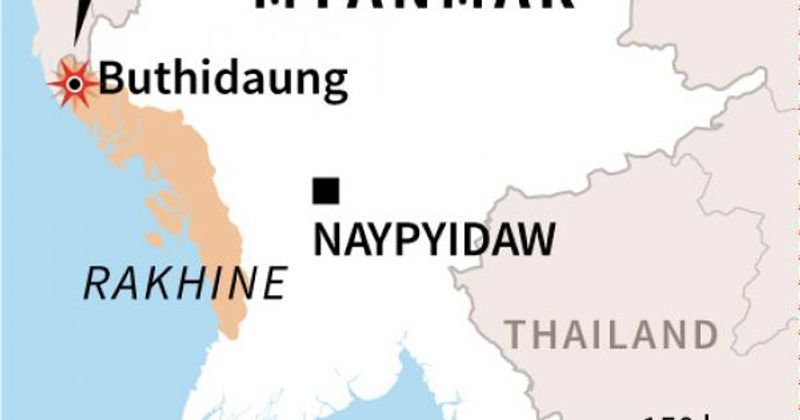 Narinjara News, 20 July 2019:
A military official has denied that the suspected of carrying out arson attack on two relatives' houses of U Aung Thaung Shwe, Pyithu Hluttaw Member of Parliament's claiming that nothing was concerned with them in Shat Shar Taung village of Bauthidaung township on July 18.
The MP confirmed that the fire broke out on the two houses belonged to Maung Aye Khin, the younger brother of U Aung Thaung Shwe and the brother of his brother-in- law, U Maung Thar Nyunt from Shat Shar Taung village respectively.
U Aung Thaung Shwe quoted as saying that the two houses arson attack was reportedly carried out by military custody after the clashes between (Tatmadaw) Burmese Army and Arakan Army as the nearer villagers witnessed the whole incident.
Despite, a number of efforts were refused to have contact for confirmation of the case to the Military Information; Senior Brigadier General Win Zaw Oo from Western Command told Narinjara News just on July 19 that military never ever committed arson attack.
" Tatmadaw is an organization which is trying for development and stability of a state. We never do such disservice in a state. That's all we can say" the Brigadier General added.
However, U Aung Thaung Shwe, Pyithu Hluttaw Member of Parliament said that the burning down of the two houses were carried out by military operation unit just after the clashes of Tatmadaw Burmese Army and Arakan Army which broke out between Shat Shar Taung village and U Yin Thar village on July 18 morning.
Asking about the confirmation of the witness or evidence base to prove, " Shat Shar Taung village is my native. The villagers of U Yin Thar called me that the military was setting on fire of the two houses as they saw the whole situation from the hill. Moreover, Sin Thae Prin Muslim village from the other side of the creek also informed me about that. That's why I have known" added by U Aung Thaung Shwe.
The recent fighting between Arakan Army (AA) and Tatmadaw has been escalating following with the burning down of the villagers houses has been obviously raised including some houses from Nor Rone Taung village on July 13, 44 houses in Alaychaung Khami village of Buthidaung township on July 5 and 11 houses in A Myat Taung village of Rathidaung township.
Following the arson attacks on the civilian villages, both Tatmadaw and Arakan Army have made accusations in turns of responsibility.
Brigadier General Win Zaw Oo said that it was not arson attack and the fire was caught due to artillery weapons supposed to be firing from Arakan Army.
However, Arakan Army publicized their strong refusal on accuse by Tatmadaw issuing a statement on July 16 .