Sittwe Police Call Local CSO in Questioning for alleged over Money Collection for IDPs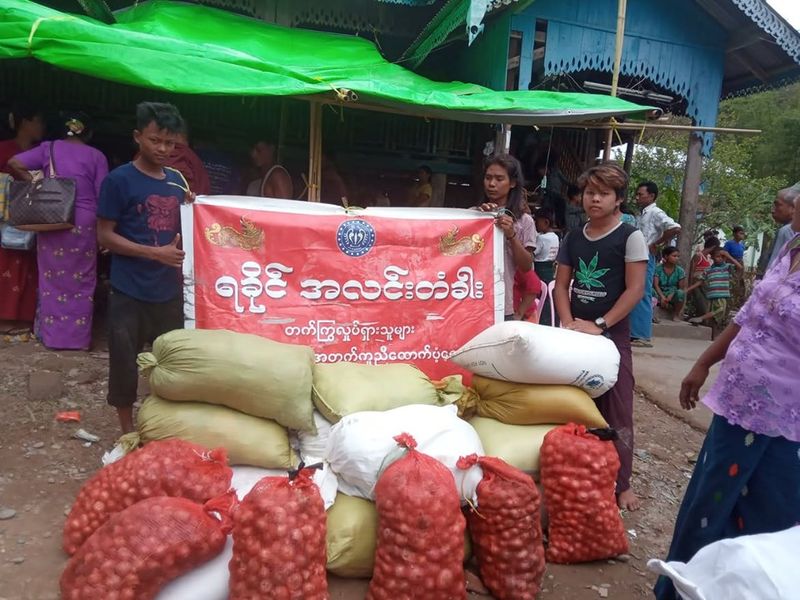 Thein Zaw (Mgdaw), 23 July 2019
Sittwe police reportedly called eight suspected people from a Local Civil Society Organization named Rakhine A Lin Ta Gar, including two women, questioned in the alleged money collection for Rakhine IDPs yesterday.
Daw Phyu Phyu Than, the Secretary of A Lin Ta Gar association said that the questioning by police on active local CSO group's eight members were made two times on Sunday when it came after the CSO was taken picture by police on July 19 at noon while they were on the way for money collection as volunteering activity near Pryi Daw Thar word Sittwe.
She added that " We were called by No (1) Sittwe Police Station yesterday. I asked them back what for. They were said to be calling us in accordance with their senior officials. And they asked us whether we had granted permission for money bagging out and registration of the organization. They also asked where the donation money goes,"
Daw Phyu Phyu said that they had already submitted permission letter to the Sittwe Township Administration Office since April 11.
"They did not reply anything so far and they did not say not to keep it on. That's why, we continue collection from local people. This is not a crime. We have recognized certificate for donation and collection. We have all the records for all donations. We are just helping and volunteering for IDPs as the IDPs asked for us" Daw Phyu Phyu Than said.
According to the records of Rakhine A Lin Ta Gar active CSO group, it was known that 37 times donations have been transparently made so far for IDPs camps in throughout Rakhine State providing money and other's basic requisites for IDPs in case of necessary. Moreover, Friday money collection campaign was out for urgent requisition in terms of daily basic necessity, from Mruk Oo's Sinbawkaing IDP camp which was recently Monsoon flooded due to significant Lay More river rising.
The Chairperson Daw Kyawt Sein said, " Rakhine IDPs are obviously in trouble. They did not go for aid donation. They prevent others as well who go to help. We are not Arakan Army member. We are honestly helping volunteers group. We have already sent for permission. Whenever we went to the GAD township office for permission, they always said there was no authorized person. Thus, we kicked off money collection and begging out for IDPs. That's why we were called and being questioned. We heard that we would be charged against with two sections'.
Inquiring about the questioning at Local CSO group, Narinjara News media correspondent went to Sittwe No (1) Police Station in person, township Police's Inspector, however, was said to be tied up with meeting.