Youth shot dead in Sittwe by security forces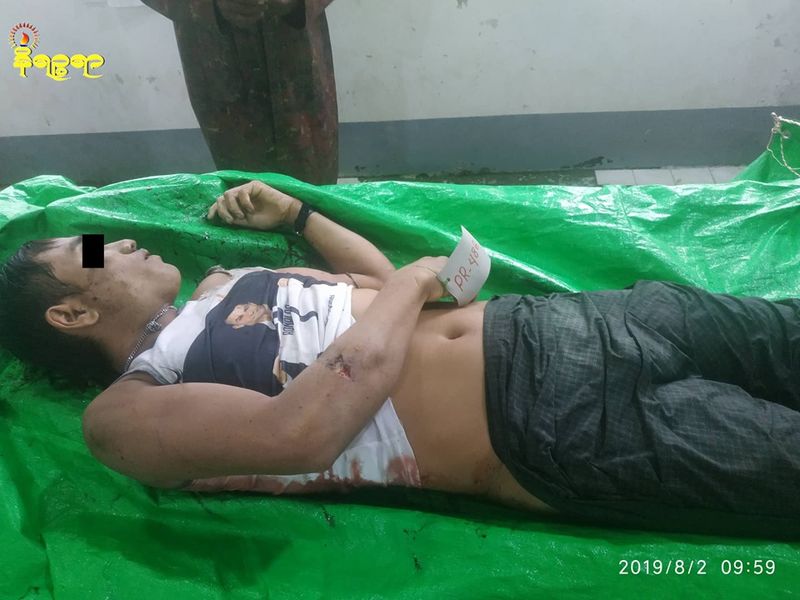 Narinjara News, 2 August 2019

A youth was shot dead by the soldiers belonged to Myanmar Army at around 11 pm on Thursday as the 26 years old was returning from the crab trading center along with his brother-in-law on a motorbike.
The victim was later identified as Chit Thu Aung (son of U Aung Win) from Amyit Kyunt village under Sittwe township of Arakan.

"I heard the news of Chit Thu Aung's death today morning and went to Sittwe hospital to take possession of his body. Chit Thu Aung faced the bullets at Min Chaung bridge as he was coming back to home with his brother-in-law. But we do not know the reason for shooting on him by the security personnel," said Chit Thu Aung's aunt Daw Shwe Nin Zi.

Min Chaung bridge is located in the middle of Ponna Kyunt township and the Arakanese capital city of Sittwe. The authority imposed curfew in Ponna Kyunt township from 9 pm to 5 am following the continued conflicts between Myanmar Army soldiers and Arakan Army rebels.

According to government sources few more townships were brought under the curfew recently.

U Tun Maung, a law marker from Pyithu Lwattaw admitted about the incident but denied any detail information. On duty officers from Ponna Kyunt police station also revealed that a resident of Amyit Kyunt village was shot dead and his body was handed over to the hospital last night.

In Arakan, over 70 persons lost their lives in continued gun-battles between the government forces and Arakan Army rebels since December last year. Shockingly most of them died because of bullets from the security forces, claimed various Arakanese social organizations.