Month-long unilateral ceasefire declared by the Three Brotherly Alliance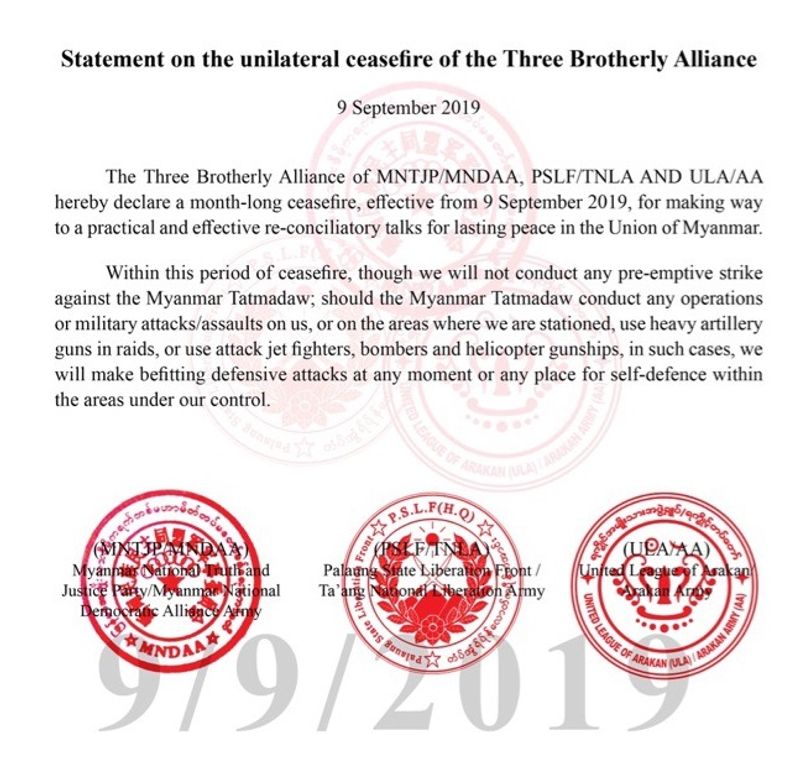 by Thein Zaw, 10 September 2019
The Three Brotherly Alliance of MNTJP/MNDAA, PSLF/TNLA and ULA/AA has declared that it would maintain a month-long unilateral ceasefire with the Myanmar government forces with immediate effect from 9 September, said a statement issued by the armed groups.

Khaing Thu Ka, a spokesperson of Arakan Army, informed Narinjara News over the telephone that the unilateral ceasefire is intended to enhance trusts with the government in Nay Pyi Taw for the advantage of peace talks.

"As the negotiation with the Myanmar security forces is going on, we have decided to go for the unilateral ceasefire so that necessary trusts we can be built for an effective re-conciliatory talk that might bring lasting peace in Myanmar," added Khaing Thu Ka.

He, however, asserted that even though they have declared the unilateral ceasefire, they would not hesitate to counter any army aggression anywhere in the localities under their control.

The statement revealed that within the period of ceasefire, the armed groups would not conduct any pre-emptive strike against the Tamadaw, but if the security forces try to conduct any operation or military assaults on the groups or the area where they are stationed, they would respond accordingly.

Moreover, the use of heavy artillery guns, jet fighters, bombers, helicopter gunships etc by the security forces would not be tolerated in their areas of control, it warned.