Activists to demonstrate in Yangon for restoration of internet in Arakan townships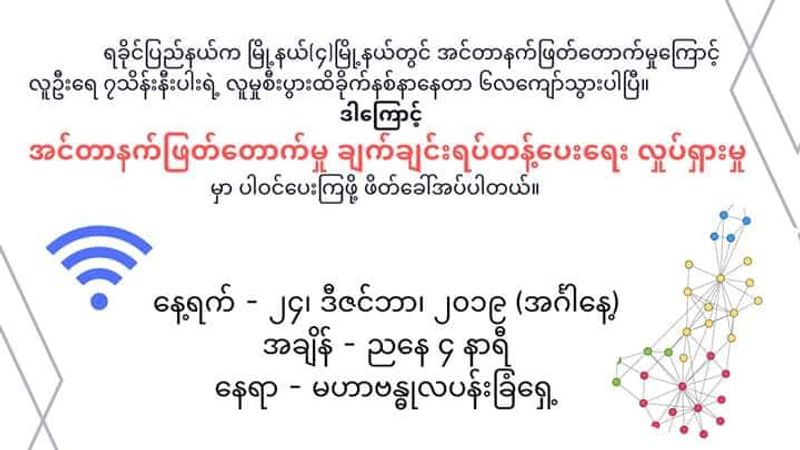 Narinjara News, 22 December 2019

A group of social activists are planning to demonstrate in Yangon on 24 December to demand the government for restoration of internet services in four townships of Arakan State in western Myanmar.

The venue is decided to be the premises of Bandola garden in the downtown of Yangon, where several activists and members of non-government organizations will assemble from 4 to 6 pm to raise voices for restoration of internet service that is under restriction for 6 months.

Meanwhile, 19 social and youth organizations for human rights have issued a statement asking the government to restore the internet facilities in all Arakanese townships.

"It is unacceptable for netizens as the internet shut down continues for a long period. The government should find ways to deal with the situation and allows the internet in affected areas," said Maung Saungkha, director of Athan, freedom of Expression Activist Organization based in Yangon.

He added that the authority would find it difficult to conduct any polls there without internet facilities.

Initially, 9 townships of Arakan and Chin States witnessed the internet shut down by the Myanmar authority on 21 June last.

The affected townships included Paletwa of Chin and Maungdaw, Buthidaung, Rathedaung, Ponnagyun, Mrauk-U, Kyauktaw, Minbya and Myebon of Rakhine.

Later the Union transport and communications ministry lifted the internet ban in some townships on 1 September.

Presently the internet shut down has been experienced by Ponnagyun, Mrauk-U, Kyauktaw and Minbya townships of Arakan. Maung Saungkha asserted that with the restriction of internet the overall situation in Arakan has only worsened. Arakanese people continue to be affected severely by the government actions.

Daw Chit Nin You from Free Expression Myanmar (FEM) claimed that the internet restrictions brought more difficulties to the people as it has affected daily shares of information on businesses, healthcare and livelihoods.

The shut down by telecom services namely MPT, Telenor, Ooreedoo, and MyTel have affected around 7 lakh people in Arakan.

Ko Min Ba Chay, an Arakanese activist argued that the internet shut down is similar to the practice of human rights abuses by the authority. As he is joining the event in Yangon, he would justify the demand for restoration of internet services in Arakan townships at the earliest.