300 villagers left conflict areas to take shelter in Sittwe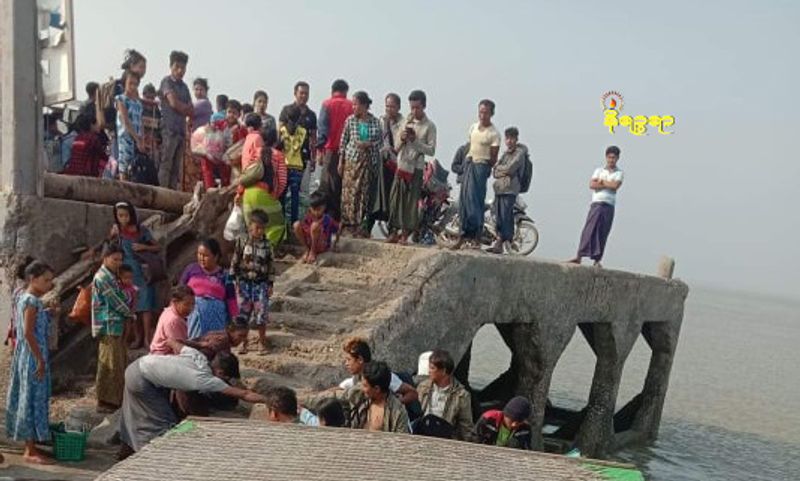 Narinjara News, 31 December 2019

At least three hundred villagers from six conflict-ridden villages of Arakan have shifted to Sittwe, capital city of the State, as incidents of fierce fighting between Myanmar security forces and Arakan Army (AA) members continue in those localities.

The affected villages include Ah Ngu Maw, Kon Dan, Tan Aye, Ma Kyi Chaung, Tha Zi Gon and Pauk Taw Bying at Mayu peninsula under Rathedaung township, which is 20 miles north of Sittwe.

Daw Thung May, who is now taking shelter at Damma Rama monastery in Danyawaddy ward of Sittwe, informed that gun-battles broke out in their village repeatedly on 28 December.

Initially, AA members attacked a border police convey which was coming from Maungdaw on Ah Ngu Maw- Maungdaw road near Taung Oo pagoda.

"The security forces instantly retaliated and conflicts went on for the whole day. Some artillery shells even exploded near our village. The people got scared and soon fled to Sittwe," She added.

U Maung Thein from Ah Ngu Maw village informed, "Some artillery shells had fallen down on the river bank outside of our village territory. As the shells exploded with loud noises, the villagers start leaving their places and finally arrived in Sittwe."

Damma Rama monastery earlier housed only 100 internally displaced persons and now another group of 300 people have joined the team.

The abbot from the monastery revealed that they have sufficient volume of rice for the next few days. But later they may need food items for 400 inmates. Some rice sacks were offered by the government and non-government organizations.

However the shortage of blankets, warm clothes, mats etc becomes a
major problem because of the cold weather.

On 30 November last, a 14 years old cowboy was killed in landmine explosions at Ah Ngu Maw village.

The ongoing conflicts have compelled over 102000 people to take shelter in camps within a year. Moreover, 101 civilians were killed and 134 sustained injuries. According to Rakhine Ethnic Congress, 340 people are facing anti-terrorism laws in the State.