Myanmar apex court rejects Dr Aye Maung's appeal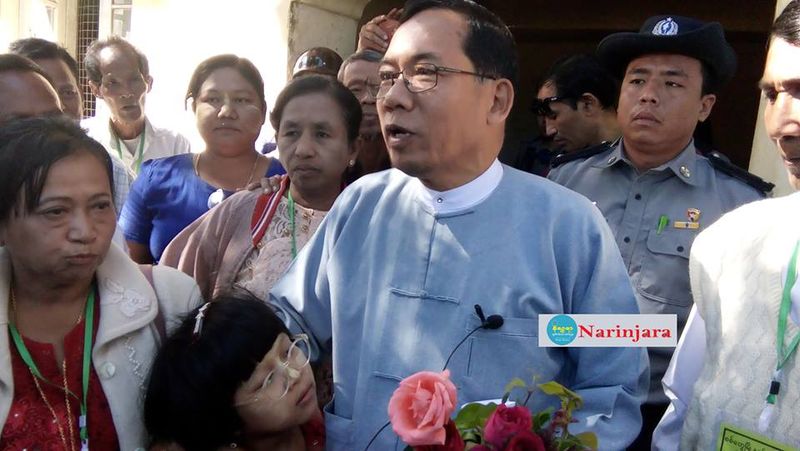 Narinjara News, 24 January 2020
The special appeal by Dr Aye Maung and Arakanese author Wai Hin Aung was rejected today by the Supreme Court of Myanmar.
Even after the rejection of Nay Pyi Daw based top court, both Dr Aye Maung and Wai Hin Aung have an option to appeal to the President.

Presently both of them are serving the sentences inside the notorious Insein prison.

Dr Aye Maung's lawyer U Khin Nu informed that the apex court rejected the appeal for the last hearing. So there is no more scope for an appeal to the court, he state adding that Dr Aye Maung was yet to allow him to process the appeal to the President.

"Dr Aye Maung told me that if he appeals to the President for the amnesty, it would establish that he had admitted about the crime. He strongly argued that he had never abused the government and hence he may not go for the appeal," said the lawyer.

It may be noted that prominent politician, also a lawmaker in the lower house of Myanmar Parliament, Dr Aye Maung along with author Wai Hin Aung were sentenced to 20 years of imprisonment by the Sittwe district court on 19 March 2019.

They were charged for high treasons under section 122 and 505(b) of the penal code.

They were charged with Section 122 and Section 505 (b) of the Penal Code, and Section 17 (1) of the Unlawful Associations Act after giving speeches at a public event in Rathidaung town of Rakhine State on 16 January 2018 to mark the 122nd anniversary of the fall of the Arakanese kingdom.

Later however the unlawful associations were withdrawn by the authority due to lack of evidences.

Authorities detained author Wai Hin Aung from his house on January 16, 2018 and Dr Aye Maung at his house in Sittwe on January 18, 2018.