Two children killed, ten injured in Kyauk Taw explosions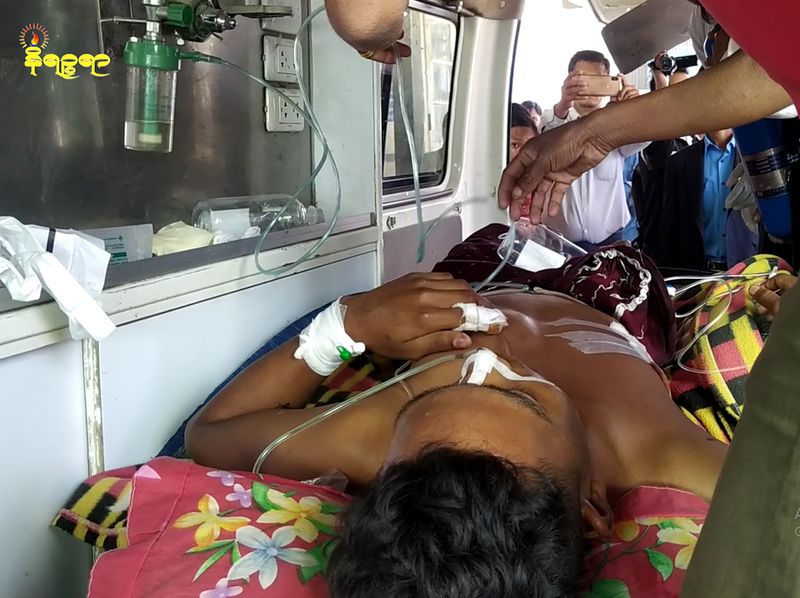 Narinjara News, 12 February 2020
Two children were killed and ten other injured in three separate explosions that took place in Kyauk Taw township, 80 miles north of Sittwe, the capital city of Arakan within two days.

Four children were injured with a shell explosion while they were playing a football match on the bank of Kaladan river near to their village Myauk Taung on 11 February.

U Myiny Naing, a lawmaker of upper house from the township informed Narinjara that a heavy shell exploded on the river bank while four children were playing there.

The injured children are identified as Maung Wai Yan Soe (10 years old, grade 5), Muang U Than Zaw (18, grade 10), Maung Ko Ko Hein (18) and Maung Pai Soe (17). An arm of Maung Ko Ko Hein was severely injured. They are admitted in Kyauk Taw township hospital.

Many villagers claimed that the shell came from the Kyauk Taw brigade, Narinjara cannot confirm it as it is still waiting for necessary response from the army spokesperson over the incident.

Another bomb exploded at Gar Pu Mro tribal village on 10 February. A 9 years old boy was killed on the spot and five other injured, informed Daw Myat Kay Khine, a nurse working in the rural government clinic.

"I came to know about the incident as the injured children were brought to the clinic. Among them Maung Khin Kyaw Lin (9), son of U Kyaw Zan, has already died. Others are recovering. They perhaps accidently stepped on the bomb and it exploded," added the nurse.

The injured children are identified as Ma Nin Aye (6, daughter of U Than Htike), Ma Mae Nu (12, daughter of U Maung Tun Aung), Maung Hein Htike (4, son of U Than Htike), Ma Nay Moe Yin (9, daughter of U Khin Maung Win) and Ma Nay Yin Soe (7, daughter of U Tun Naing). They are under treatment at Kyauk Taw hospital.

Similarly, one youth died and two children were injured at Taung Bwe Muslim village on 10 February because of a shell explosion. Maung Rahin Nadin (15) died on way to the Sittwe hospital at around 5 pm.

The injured children namely Ze Rashar (3) and Ma Hawhonda (12) are in the critical condition at Kyauk Taw hospital.

According to some Muslim villagers, the shell was fired from a navy ship on Kaladan river and several pieces hit those children. Another 45 years old Muslim woman named Daw Sei Ni from Ha Yar village also sustained injuries in a shell explosion that took place when she came to see those injured children.