Union minister, Rakhine chief minister survive gunfire on helicopter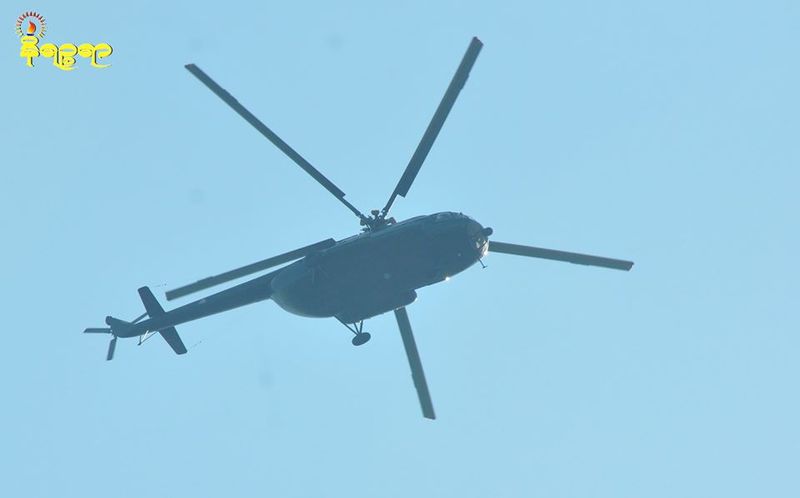 Chit Ee Hlaing
Narinjara News, 22 February 2020
No injury or damage was reported after two bullets hit a helicopter carrying Rakhine State chief minister U Nyi Pu and Union social welfare, relief and resettlement minister Dr Win Myat Aye. They were travelling from Sittwe to Buthidaung for visiting people injured in conflicts.

Tatmadaw news information team's secretary Brigadier General Zaw Min Tun confirmed that the helicopter faced bullets at around 10.45 am on Tuesday morning.

"The shooting occurred by 10.45 am while they were travelling from Sittwe and Buthidaung. Two bullets hit the helicopter. However, there is no injury reported. The helicopter landed safely in Buthidaung," said Brig-Gen Zaw Min Tun.

"As there was no damage to the helicopter or injury to the passengers it could return to Sittwe by 3pm," he added.

Brig-Gen Zaw Min Tun commented that Arakan Army members could fire the Tatmadaw helicopter. The incident may take place in between Buthidaung and Rathedaung, he claimed.

AA spokesperson Khine Thu Kha confirmed that their members fired over the military helicopter as it flew over heads of their members.

Incidents of fighting continue between government forces and AA members in various localities. In some occasions the military used helicopters to target AA members. So they retaliated as the helicopter was flying low, added Khing Thu Kha.

AA leaders meanwhile urged all government officials and civilians to avoid military vehicles including helicopters inside Arakan.