Tatmadaw: Legal action being taken against security personnel's illegal interrogation of 5 men from Kyauk Seik, Ponnarkyun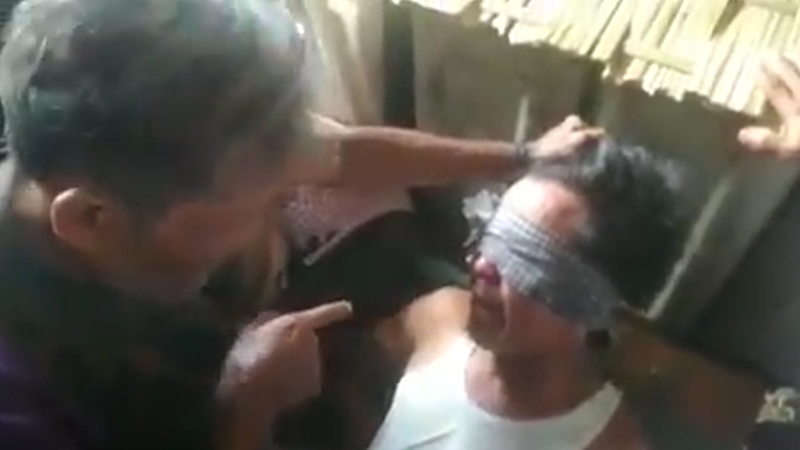 Man Yu Kyaw (Shwe Wa Mye)

Sittwe,13 May 2020

The Office of the Commander-in-Chief of the Defence Services announced yesterday that legal action is being taken against security personnel involved in the unlawful interrogation of five men from Kyauk Seik village, Ponnarkyun Township, Rakhine.

On May 10 a video appeared on social media networks showing Tatmadaw soldiers mistreating and beating five blindfolded men aboard a boat. The men were arrested by the Tatmadaw in Kyauk Seik, Ponnarkyun.
The five men can be seen being kicked and beaten about the face and body, punched and slapped in the face, and having their chests stamped on. The video, which has since gone viral, has prompted widespread criticism of the Tatmadaw soldiers and on May 12 the Office of the Commander-in-Chief of the Defence Services made the announcement.
It mentions a previous report issued on April 21 which states the five men had been detained in Kyauk Seik village in Ponnarkyun and were undergoing the necessary interrogations.
"On the morning of April 27 the five men were transferred by military boat from Ponnarkyun to Sittwe for further investigation and legal proceedings, and during their transfer a video has emerged showing security personnel tasked with guarding the men conducting interrogations in a way which is not in accordance with the law. Investigations into these security personnel who conducted this interrogation that was not in accordance with the law will continue, and action will be taken in accordance with military law" the announcement said.
U Saw Maung Thein, uncle to Ko Nyi Nyi Aung who was among the five arrested, said that the Tatmadaw announcing that it was taking action against its own soldiers was just words, nothing more.
"Its just talk, saying they will take action in accordance with the law. We've heard this all before. In Myanmar there is no justice or equality in the legal system. It's biased and favours one side. And this is what we have at the moment" he told Narinjara.
According to family members, the five men in the video include Ko Nyi Nyi Aung (24), Ko Myo Linn Oo (24), Ko Maung Chay (24) who are from Kyauk Seik. The remaining two include Ko Min Soe (38), from Ponnarkyun Town and Ko Kyaw Win Hein from Zi Pin Gyi village, Mrauk Oo.
Ko Kyaw Hein from Mrauk Oo Township lives in Sittwe but was arrested when he went to Kyauk Seik village to care for his father who had suffered a stroke. Ko Min Soe was arrested when he went to Kyauk Seik to collect a debt owed to him.
On April 19, 38 people, including these five, were arrested by the Tatmadaw on suspicion of affiliation with the AA. So far 33 have been released.