Hluttaw MP warns of food shortages due to corona and conflict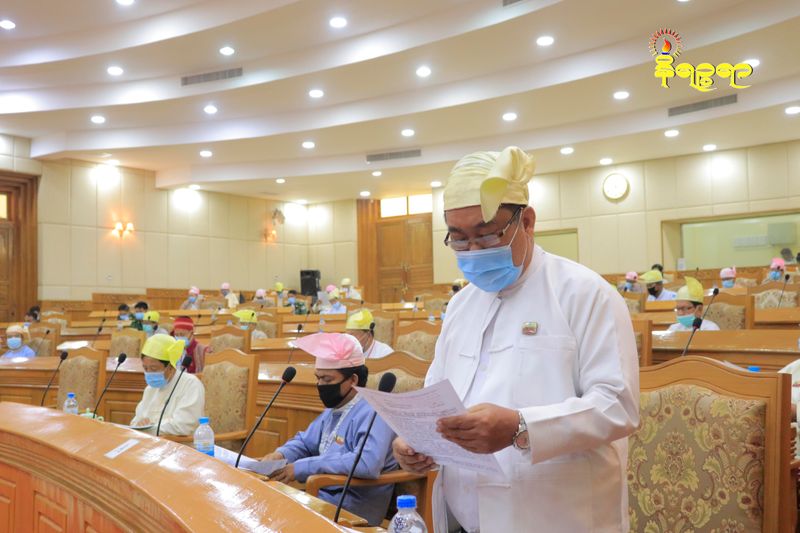 Saung Zar Chi and Ein Soe Hpyu
Narinjara News, 24 nMay 2020
The corona pandemic and conflict may cause insufficient rice stocks and food shortages for the Rakhine population, warned Myebon Township Hluttaw representative U Aung Win.
The Myebon Township Hluttaw representative U Aung Win urged the Rakhine state government to take effective measures to ensure rice was cultivated in the coming rainy season during the 13th session of the State Hluttaw session.
After the parliamentary meeting Narinjara spoke to U Aung Win concerning his proposal and food shortages in Rakhine.
"If rice stocks are insufficient, its going to be really difficult to support people. And now there is the corona pandemic. Both are having a huge impact – conflict stops people from farming, and corona impedes trade and transport of rice stocks coming in from other areas. Its essential that rice stocks are sufficient. The state government absolutely has the responsibility to ensure that people do not face food shortages. They need to take responsibility and act" he said.
He explained that in rural areas of Rakhine, conflict and the corona virus mean people are experiencing all kinds of difficulties. Farmers cannot plough their fields, or have abandoned their land due to war. There is a shortage of farm labour, and rice paddy seedlings are in short supply.
"Today's proposal is that the government needs to provide support to farmers in the coming rainy season in Rakhine State. The corona virus is one thing, the fighting is another. Labour shortage is also a problem. Food will be difficult next year if it is not farmed this year. During this year's rainy season, it is important for all farmers to grow paddy in time. That's why we had to submit this. It's needed. I believe it will succeed" he said.
Local residents have said that conflict in places in Mrauk Oo, Minbya, Myebon, Buthitaung, Ponnargyun, Kyauktaw as well other areas has meant many farmers have gone hungry because they had been unable to harvest their crop.
U Ba Thein vice chairman for the Rathetaung Township Farmers' Association said "the paddy fields need to be ploughed this year. Every farmer is afraid they will be arrested or shot while out working in the fields. There is no one who will rent the land. Also, last year the harvest was not carried out. So we don't have any paddy or rice seedlings for replanting this year. We need these seeds for planting this year" he told Narinjara.
Last year a total of 15,000 acres of rice paddy were not harvested across seven townships in Rakhine, according to Rakhine State Farmers Association president who spoke with Natinjara in January.