Droughts trigger water shortages in Minbya villages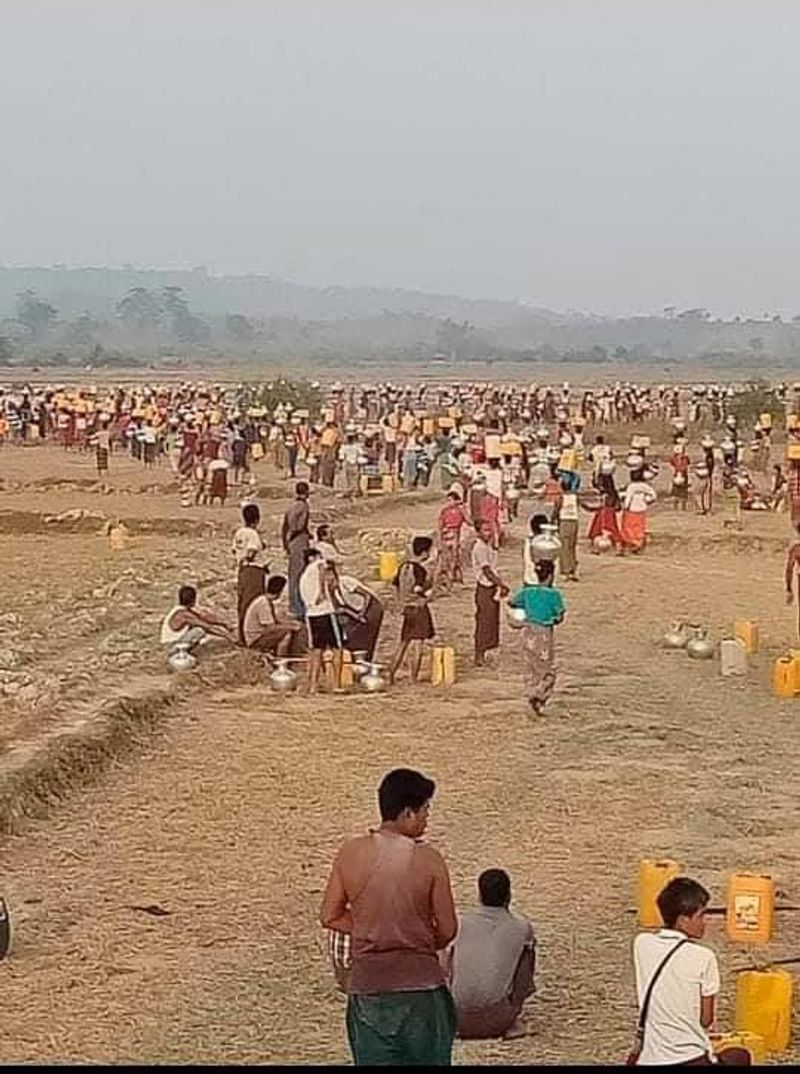 Ein Soe Hpyu

Narinjara News,1 June 2020
Numerous villages in Minbya township, Rakhine state are experiencing drought conditions and suffering from water shortages in this summer, it has been reported.
Director of Minbya department of rural development U Than Soe confirmed to Narinjara yesterday evening that water was scarce and there is a shortage of drinking water in rural areas.
"Five villages have reported in to us that they are have completely run out of water. Other villages have also said that they have run out of water. Its difficult as in Minbya town we have run out of water so we can't provide help. There is water in Myaung Gyi Chay and Myaung Ngay Chay, but that's across the Ra Maung bridge, and no will take responsibility to transport water from there to here. The military won't take responsibility, there is fighting taking place near there," he explained.
The five villages that have completely run out of water are Shwe Kyan, Thaung Kone Maw, Ngan Tet, Pa Laung Pyin and Bu Pyin. Over one thousand households live in these five villages, he said.
Most villages that have not reported to the department of rural development, including Min Hpu, and Hpay Thar Pyin as well as other villages. There are four water ponds in Min Hpu all of which have completely dried up, according to the village administrator, U San Thein.
"The ponds have all run dry. The other day it rained a bit and we could get a little water, but we cant use it, its dirty and full of mud. Its really difficult, we don't even have anything to drink. We have to go deep into the forest to collect water and carry it back. We can't go on like this," U San Thein said.
The ponds in Hpay Thar Pyin have also run dry and people are forced to wash with salt water from the creek, explained one local abbot U Ariyaga.
"The people in the village can't wash and there isn't even any drinking water. It rained the other day, but there's none left now. In Kyet Yet village which is close by, they have a little left in their ponds and they let us use it for an hour every day. All the villagers get together to fetch water. If they want to bathe then they have to wash in the salt water creek, and when they get out they rinse off with just a cup of fresh water. This is what it has come to. We are completely out of water and it is really difficult", the abbot explained.
The deputy township administrator U Kyaw Thein Tun was contacted about the matter however he said that he was unaware of the issue and that there was nothing else to add.
There are eight quarters in Minbya town and 62 village tracts in the township. According to local residents every year the majority of villages experience water shortages during the summer months.
(Photo – Kyet Yet Abbot, Minbya townshp)