Two more test positive for COVID-19 in Maungdaw after entering illegally from Bangladesh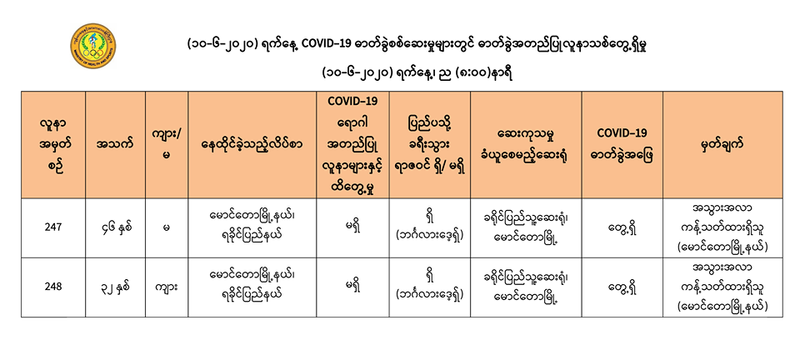 Ein Soe Hpyu

Narinjara News, 11 June 2020
Two more people have tested positive for the Corona virus after crossing illegally into Maungdaw from Bangladesh, it has been reported.
The Ministry of Health and Sports made the announcement on Wednesday at 8pm, confirming that both patients - a 46 year old woman and 32 year old man, are from Shwe Zar quarter, Maungdaw town.
U Wai Tun, township administrator for Maungdaw spoke with Narinjara, and confirmed that the two people were Muslims and had illegally entered Myanmar, and that they had been monitoring border crossings since June 4.
"They slept at their home for one night. They were obviously in contact with others. We still don't know how many people they came in contact with, but we are trying to find out. As soon as we get the news, we will see. I didn't hear about anymore people illegally entering. We still haven't decided if we are going to lockdown the town or not. We will know once we have held the meeting" he said.
In addition patient 247 (female) and patient 248 (male), one person tested positive on June 4 and another on June 9.
To date, there have been four confirmed cases of COVID-19 in Maungdaw township, all from people who have illegally entered Myanmar.
Local residents have raised concerns over allegations that some border officials along the border accept cash payments to allow people to enter illegally, however Narinjara was not yet able to independently verify this.
According to the Ministry of Health and Sports announcement this evening, legal action will be taken in accordance with existing laws if people are found to have illegally entered Myanmar.
There are currently 248 people who have tested positive for COVID-19 in Myanmar, with 165 people fully recovered, while 6 people have died, according to the Ministry of Health and Sports' announcement today.
Many local residents in Maungdaw have expressed serious concerns that there may have been local transmission from the two people who recently tested positive.