Sittwe's Set Yoe Kya farmers stage 'plough protest' on the seized land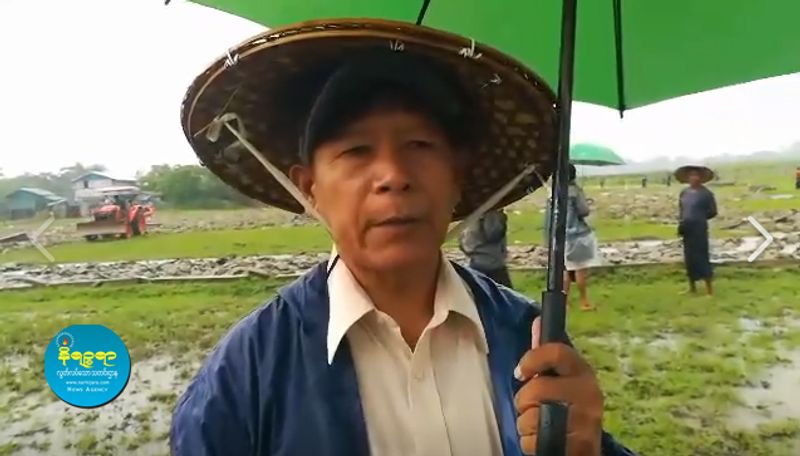 Tun Kaing (Taung Yin Kyun)
Narinjara News. 15 June 2020
Four farmers from Sittwe's Set Yoe Kya have held their second 'plough protest' on land formerly owned by them but confiscated for the development of an industrial zone.
U Yan Myo Aung, U Kyaw Maung, U Oo Tun Maung and Daw Ma Thar Nu, all from Set Yoe Kya quarter in Sittwe took part in the plough protest.
"We want our land back. These are our ancestral lands. We want to be suitably compensated, that's why we are doing this protest-plough," explained U Yan Myo Aung, whose farmland has been seized.
Between 1993 and 1994, at the time of the military regime, a total of over123 acres of farmland owned by residents of Set Yoe Kya and Kyay Daw villages was confiscated for the construction of an industrial zone. The 23 farmers dispossessed were not given compensation of any kind for the land seized, U Yan Myo Aung said.
"The government took the land to build the industrial zone, but nothing has been done on the land. Instead of returning the land back to the farmers, the politicians, the people in power, the cronies, they divided it up amongst themselves and took it. This is totally illegal and unfair" U Yan Myo Aung continued.
Arakan Human Rights Defenders and Promoters group said in a statement that the land had been allocated under the previous government under the names of two former state chief ministers, state ministers and government officials, as well as leaders of political parties.
The farmers have yet to receive any response to the current protest-plough, despite the association of some high profile figures.
"The confiscation of land is a violation of these farmers rights", Arakan Human Rights Defenders and Promoters group director U Myat Tun said. "They have now formally filed their complaint to higher levels to recover their lost land and have got together to conduct this protest-plough. They are doing what is right, what needs to be done" he said.
During the protest-plough more than 10 acres of farmland was ploughed with a tractor. Other farmers helped by providing a protective cordon, the farmers said.
"Farmers can only do one thing – farm. We cant do anything else so its extremely difficult to support ourselves. There face all kinds of difficulties like finding the means to support our children through education. Some have even had to resort to begging" U Yan Myo Aung said.
He explained that the State government had offered to pay compensation of 3 million kyat per acre of farmland.
The farmers have rejected this offer, and requested that the land should be compensated at the market price, or to have their farmland returned if the confiscated land was not built on.
The first protest-plough was held on June 9, during which the authorities made no attempts to intervene and stop it.