Detained three months ago and not heard of since, relatives of 18 missing men demand immediate release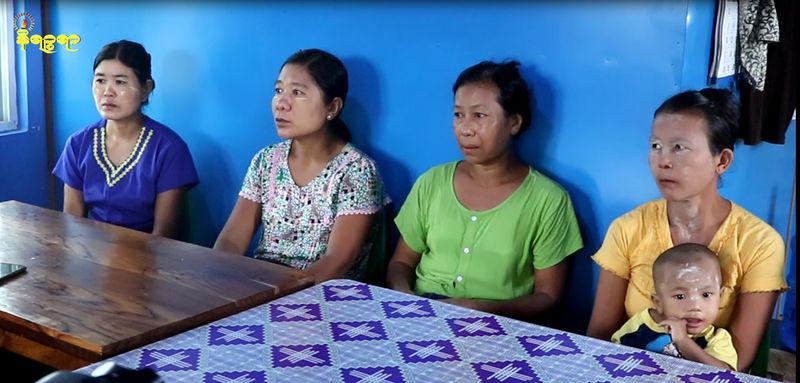 Tun Kaing (Taung Yin Kyunt)

Narinjara news, 17 June 2020
The relatives of 18 people detained by Tatmadaw troops in Tin Ma village, Kyauktaw, held a press conference on Monday demanding the immediate release of their family members. Around ten relatives of the missing people came to the event which was held in the Arakan Human Rights Defenders and Promoters Group office in Sittwe.
Daw Aye Yee, the mother of Maung Tun Tun Wai who was detained in Tin Ma Gyi and has not been seen since, spoke about what happened.
"On March 16, Tatmadaw troops started to shoot into the village. My son, he had just finished eating, had gone to sit underneath the house. Three soldiers came into the house and asked why my son had not run away. My son's grandmother told them he was her grandson. One soldier pointed his rifle at her head, she didn't dare say anything else. They arrested a man next door, and beat him using their rifles. My son looked back at me as they took him off to the hills to the east of our village. I haven't seen him since," she said.
Maung Tun Tun Wai is an eighth grade student and aged just 14, his mother Daw Aye yee said.
Amongst the 18 people detained and taken away, ten are from Tin Ma Gyi and eight are from Tin Ma Thit, they said.
The eight villagers from Tin Ma Thit village detained on March 13 are 75-year-old U Maung Seik Kyi; U Soe Shwe Than, 50; U Maung Tun Sein 65; U Hla Kyaw Gyi, 70 years old; U San Thar Maung 50; U Kyaw Win Maung, 34; U Maung Myint Aye 46; and Maung Than Soe, 37 years old,
The ten villagers from Tin Ma Gyi village detained and taken away on March 16 are Maung Win Gyi, 50 years old; U Maung Win Chey, 37; U Maung Kyi Lin, 40; U Maung Win Sein, 50, Maung Tun Tun Wai, 14 years old; Maung Nay Lin Oo, 26; U Than Maung Tun, 40; U Yaing Maung, 36; U Tun Win Aung, 64 and U Aung Nyunt, 65.
Families told the media that amongst the missing include a school student and a deaf and dumb man.
Daw Than Yee, mother of Maung Nay Lin Oo, 26, spoke of her son. "He is deaf and can't speak. My uncle explained this to the soldiers. When the soldiers came my son hid in the library but I didn't know. My uncle told the soldiers that he is deaf and cant speak, but they still took him away. A few days after they took him, I saw my son close to the village entrance – they had put him to work moving rocks!" Maung Nay Lin Oo's mother told the media that the relatives of the missing men demanded the immediate release of their loved ones.
Director of Arakan Human Rights Defenders and Promoters Group, U Myat Tun told the media that the Myanmar Human Rights Commission has rarely taken effective action over human right violations that have occurred in Rakhine.
The Tatmadaw True News Information Team secretary, Brigadier General Zaw Min Tun would not accept calls concerning this incident so we are unable to report the point of view of the military.
In an interview with the the Irrawaddy Tatmadaw True News Information Team secretary, Brigadier General Zaw Min Tun denied that any arrests had been made between March 13 and 16.
"I haven't heard anything about that. If there are arrests or things like that, then I report them. If there is an arrest there is no reason not to report it. On that day or thereabouts, there was fighting to the northeast of Tin Ma, and we were able to seize a lot of enemy weapons and dead bodies, that's all I know," Brigadier Gen Zaw Min Tun said in the interview with the Irrawaddy.
Journalists from the Irrawaddy, BBC, RFA, VOM, Narinjara, DMG attended the press conference.