Ethnic nationals protest in front of Myanmar Embassy in Tokyo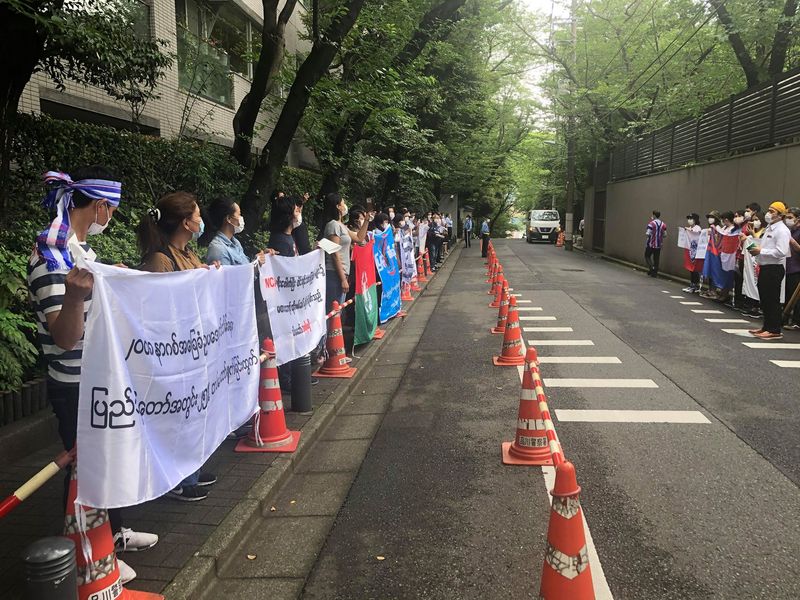 Narinjara News, 26 June 2020

A group of 60 people representing various Burmese ethic nationals staged a protest program in front of Myanmar Embassy in Tokyo of Japan demanding an end to infighting in Myanmar and reopening of internet services in Rakhine and Paletwa township of Chin province.
The protest demonstration was initiated different Myanmar ethnic groups like Rakhine, Kachin, Karen, Palaung, Mon, Chin and Shan who are living in Japan. Mostly, Rakhine nationals attended the program.
It lasted for one and half hour starting from 3 pm.
Mai Kyaw Oo, chairman of United Nationalities Alliance, which participated in the rally alleged that the Burmese military personnel were using heavy artillery and weapons along with air strikes targeting the rebels of Arakan, Chin (Paletwa), Kachin, Shan, Karen, Palaung etc.

Local people have lost their livelihood and the younger generation faces trouble in pursuing educational activities.

He also added that Japan-based groups were saddened by the increasing number of displaced people in various parts of Myanmar. They opine that the Myanmar forces (Tatmadaw) need to stop the war and go for political dialogues for permanent peace.

Besides Mai Kyaw Oo, ANDP-Japan chairman Bon Myint, Kachin leader Dau Ja, Karen leader Soe Lin Sein and Mon leader Saw Saw delivered speeches at the program.

ANDP (Arakan National Democratic Party) president Bon Myint pointed out that many civilians are being arrested in Arakan State. Moreover, a large number of internally displaced people are living in camps and many of them also face tortures in the name of interrogations.

"Many times, the authority blocked relief and medicinal items meant for IDP camps, which is totally against the guidelines of Geneva Convention. So we condemn such actions by the government," said Bon Myint.

Karen leader Soe Lin Sein Sein said that the Burmese forces banned the Covid-19 checkpoints in some areas of KNU and Kachin State during the pandemic. He strongly condemned the practices.
The protesters called for an immediate end to all offensives and resuming mobile internet services in various townships of Rakhine and Chin State. They also raised voices for continuing assistance to the people of IDPs, repealing the 2008 law, solving political problems for sustainable peace, revoking charges against editors and journalists, allowing the portals to function and permitting international journalists to get access to Rakhine related information.