Maungdaw individual tested positive for Covid-19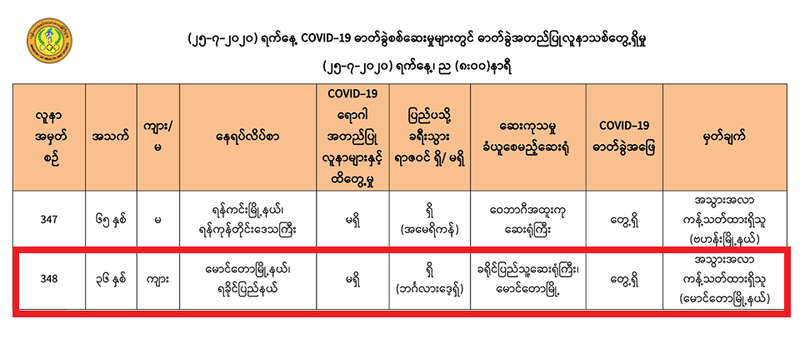 Saung Zar Kyi

Narinjara News, 27 July 2020

Myanmar Union health ministry announced that two more individuals in the country tested positive for Covid-19 on 25 July. Among them one hails from Maungdaw township of Rakhine (Arakan) State, who is around 36 years old.

The Maungdaw individual has a travel history to Bangladesh for business purposes. He had recently returned from the neighbouring country. He was found infected with the novel corona virus when he was quarantined at Hla Po Kaung transit camp in northern Maungdaw along
with 15 other people.

Maungdaw border traders' association chairman Aung Myint Thein informed Narinjara that the infected person arrived in Maungdaw on 10 July with few others from Bangladesh.


"As the border was closed on 3 July, these people might have left for Bangladesh before that date. I believe six motor-boats left for Bangladesh before 3 July. Once they returned back, all the fifteen individuals were quarantined at Hla Po Kaung camp," said Aung Myint Thein.


Another confirmed Covid-19 case was reported from Kyauktaw township, which was declared on 16 July by State health & sports ministry.


Till date, sixteen Covid-19 cases are reported in Rakhine State, were ten infected persons were already discharged from the hospital after medical attentions, stated Dr Soe Win Paing, assistant director of Rakhine State health department.