Twenty-four Doctors and Nurses Arrive in Sittwe "voluntarily" to fight coronavirus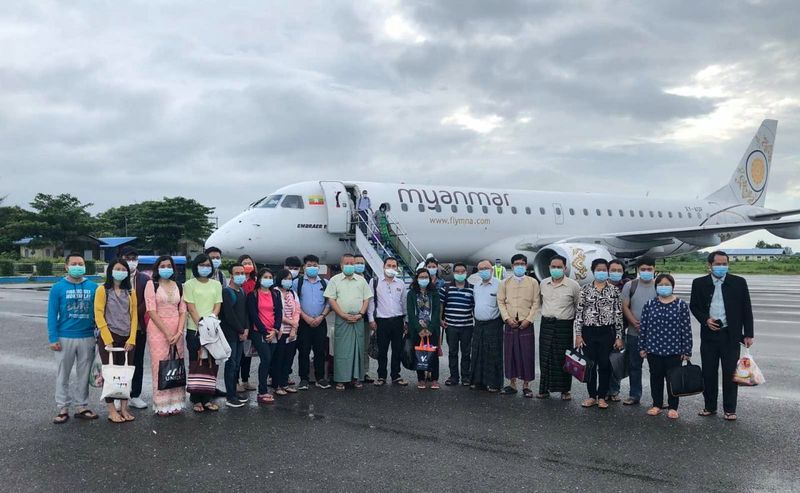 Narinjara News, 23 August 2020

Twenty-four doctors and nurses who will temporarily undertake duties to fight the coronavirus in Rakhine State have "voluntarily" arrived in Sittwe this morning, 23 August, on a special Myanmar National Airlines flight.

The delegation included one deputy director of the state public health and medical treatment department; one pathologist; three assistant physicians (anaesthesiologists); one assistant physician; one assistant physician (pathology); one assistant physician (microbiology); 13 assistant doctors; one head nurse; one senior nurse and one nurse, according to the Ministry of Health and Sports.

The doctors and nurses were greeted at Sittwe airport by the Minister of Social Affairs Dr Chan Thar; Dr Sai Win Zaw Hlaing, Director, Rakhine State Public Health and Medical Care Department; Central Field Team Leader Director (Infectious Disease Control) Dr Nyan Win Myint; Sittwe Public Hospital Superintendent Dr Zaw Lwin and officials.

The special flight also brought medical supplies and equipment for the COVID-19 prevention operations in Rakhine State.

Sittwe Hospital Superintendent Dr Zaw Lwin said, "More than 20 people arrived this morning. We met them at the airport. There are doctors, pathologists, microbiologists and anaesthesiologists. There are senior nurses. Everything is fine. They are scheduled to stay at the state health hospital", he told Narinjara.

As the number of people testing positive for COVID-19 in Sittwe has increased, about 20 additional medical staff have been arrived. Dr. Zaw Lwin said that the nursing school in Sittwe is making arrangements for about 100 patients if numbers continue to increase.

At 8 am on August 23, the Ministry of Health and Sports released a statement there were two cases of COVID-19 in Thandwe and between August 16 and 23, 53 cases have been reported in Rakhine State.