Police seize anti-government posters put up across 15 townships in Rakhine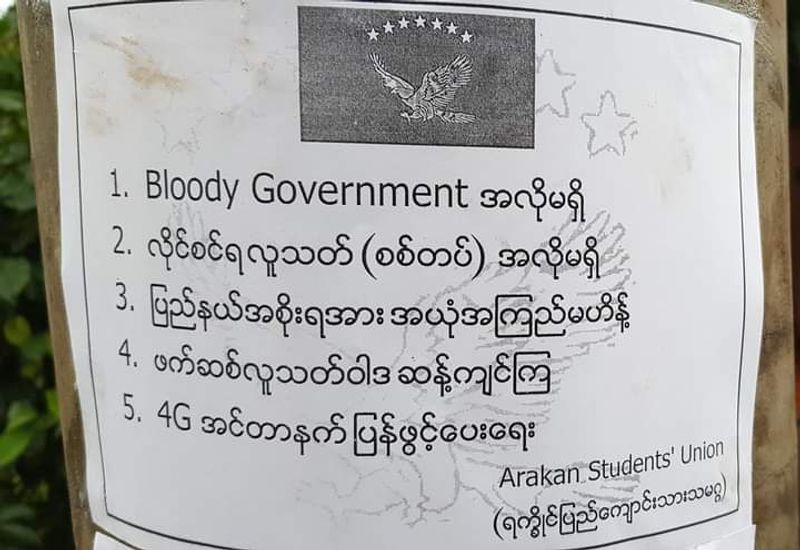 Ein Soe Phyu
Narinjara News 11, September 2020
Beginning on the morning of September 9, anti-government leaflets were on display to the public across 15 townships in Rakhine State, attached to electric pylons and stuck to walls along road intersections.
A leader of the Arakan Students' Union told Narinjara that in some townships the police had taken the initiative to confiscate and teardown the posters to prevent the public from seeing.
"When the Arakan Students' Union awoke this morning, posters had gone up across 15 towns. In some towns, the police and authorities torn them to stop the public from seeing so they are unaware of this movement. However it is understood that in some townships people have seen them," he said.
A local resident said the leaflets were found posted on electricity pylons in Mrauk-U.
"People are dying every day because of the government's failure to stop the civil war," he said.
"There is no accountability, no one takes responsibility and there is no intervention. This seems to be on purpose. We have tried to place the leaflets all over Rakhine State although we were unable to reach the towns of Gwa and Ann. The other towns were closer," he said.
The posters made four points against the 'anti-fascist genocide', calling for 4G internet; no bloody government; no murderous army; and no trust in the state government.
In Loikaw, Kayah State, students posted the leaflets in public and expressed their solidarity with the Rakhine Students' Union.
On September 9, at around 12 noon, members of the Arakan State Students' Union's steering committee, Ko Toe Toe Aung; Kyaw Naing Htay; U Than Naing were arrested for protesting in front of the Rakhine State government office, putting up posters and holding their student union's flag.
They are currently being questioned at the Sittwe City Police Station, according to members of the student union.