Indian, Bangladesh diplomats discuss IDP issues with Rakhine Parliament speaker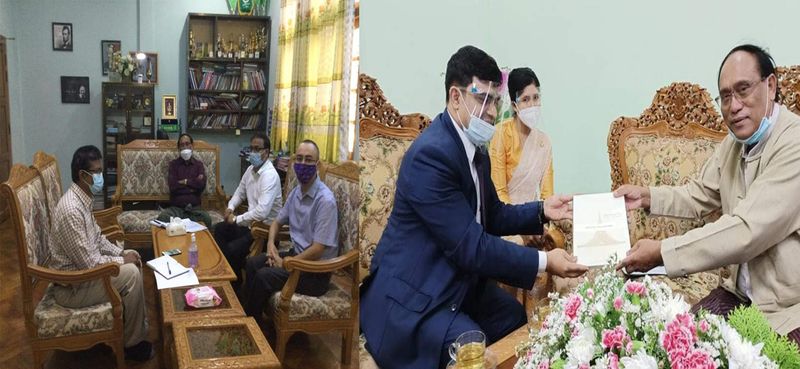 Narinjara News, 2 December 2020
Indian and Bangladesh consuls based in Sittwe, the capital of Rakhine, have reportedly met with the Rakhine State Parliament speaker to discuss separately the issue of IDPs in the State.

Indian consul Dr Gautam Kumar Pandey met with Rakhine speaker U San Kyaw Hla at his residence on 30 November, where as Bangla diplomat Mohammad Barikul Islam met with him on 1 December at the Parliament office.

U San Kyaw Hla revealed that primary topics of the Indian consul's visit were New Delhi's offer of helps to refugees and also putting the Kaladan multi-modal transit-cum-transport project on tracks.

"Dr Pandey informed that the Indian government wants to help the displaced families as they are now returning homes. He wanted to know about the kinds of help Rakhine authority want. Some refugee families have in fact no homes and hence I advocated for India's help in provide housing and food items," said the Parliament speaker.

Speaking to Narinjara News, he also added that the Indian consul requested for helps to get started the ambitious Kaladan project as soon as possible.

The project was jointly initiated by the governments of India and Myanmar to create a multi-modal platform for cargo shipments from Sittwe port to north-eastern region of the neighboring country through Myanmar.

The Kaladan project is entirely funded by New Delhi and it envisages an up-gradation of Sittwe port on the Bay of Bengal and also development of the 225 km-long waterway from Sittwe and Setpyitpyin (Kaletwa) along the Kaladan river, which flows down from India's Mizoram province.

The Sittwe port has been upgraded for the purpose but the commissioning is taking time because of the ongoing civil war in Rakhine since 2018.

Bangladeshi diplomat Barikul Islam, while meeting with the Rakhine speaker, discussed about issues related to IDPs and peace in the State. Their meeting focused on the short-term and long-term solutions to the IDPs, resettlement of Muslim refugees presently taking shelter in Bangladesh.

They also discussed over the construction of a cyclone shelter with a USD 530,000 donation from Dhaka three years back. The minutes are expected to be submitted to Dhaka through the responsible officers.