Family members urge authority to probe disappearance of 18 Tin Ma villagers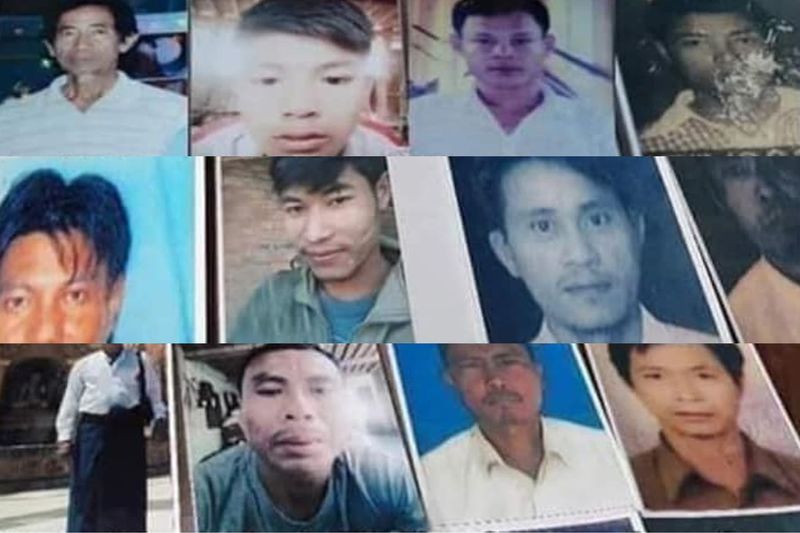 Narinjara News, 21 February 2022
The family members of Tinma village under Kyauktaw township in Rakhine State urge the government officials to investigate the disappearance of 18 villagers who have been missing for the last two years.
Among the missing individuals, 10 hail from Tinma Gyi village and 8 from Tinma Thit village, which is close to Paletwa township of Chin State.
They all went missing after the security forces abducted them on 13 and 16 March in 2020, claimed the family members.
Daw Khin May Win, wife of the missing villager U Tun Maung Win, said, "I still feel as if it happened yesterday only. I want the know the truth about my husband's fate. If 18 people are still missing, it's a serious issue and we deserve proper information about them."
The missing Tinma Gyi villagers are identified as U Aung Nyunt, U Tun Maung Win, U Yin Maung, U Than Maung Tun, U Maung Win (aka) U Maung Win Gyi, U Maung Win Chye, U Maung Kyi Lin, U Maung Sein Win, Maung Tun Tun Wai And Maung Nay Lin Oo.
Similarly, eight missing villagers from Tinma Thit village include U Kyaw Win, U Hla Kyaw Gyi, U Maung Than Soe, U Saw Shwe Than, U San Thar Maung, Maung Mya Aye and Maung Tun Sein.
The State Administrative Council (SAC) earlier released 46 persons on Union Day (12 February), but many are still behind bars.
Among the missing villagers are a young student (eighth-grade standard), a 29-year-old deaf man and a 70-year-old man, stated the family members.
They also submitted a memorandum to the Myanmar National Human Rights Commission through the Rakhine Human Rights Defenders' Association in October 2020 demanding a probe into the matter.
U Myat Tun, director of Rakhine Human Rights Defenders' Association, said, "We have all the evidence that it is a human rights violation case. There are some elder people also among the missing individuals."

In December 2020, the family members were interrogated at Mrauk-U district police station, but nothing came out of it.
More than 3,500 people from Tinma Thit village in upper Kaladan river were forced to flee their villages due to heavy fighting between the Arakan Army members and the Burmese army personnel in March 2020.
After the villagers left residences, the some soldiers set 132 of the 585 houses on fire. Another 93 houses were partially destroyed. The bombings damaged pagodas, ordination halls, monasteries etc, claimed the villagers.Presently the Tinma villagers are taking shelter in Kyauktaw IDP camps and they are not being allowed to return back to their villages due to the presence of military troops near the village.