Junta forces abandon several outposts in Rakhine-Bangladesh border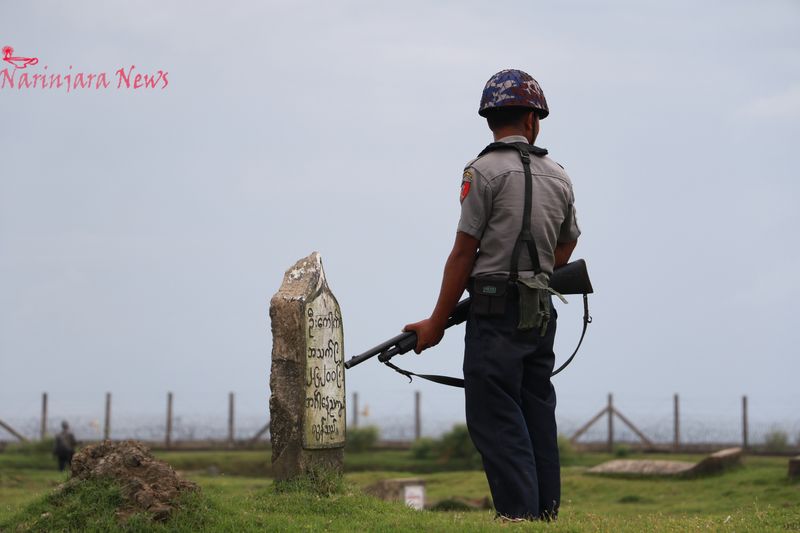 Narinjara News, 12 August 2022
At least seven border outposts along the Rakhine-Bangladesh border were abandoned by the Myanmar military junta forces as the military tension heightened between Burmese military personnel and Arakan Army members.
Moreover, some border areas in northern Maungdaw township have fallen under the AA control.
AA spokesperson U Khaing Thukha said in a press conference held on 11 August that the military council had withdrawn from seven outposts in the border areas.
"The military council withdrew their troops from seven outposts in the Rakhine- Bangladesh border. They retreated because of the difficulties facing in the removed areas," he added.
Locals informed that one of those abandoned outposts named Nan Rar Gai camp with more than 100 soldiers was set on fire by AA members on 5 August following which the junta forces left the outpost.
Earlier on 2 August along the Rakhine-Bangladesh border an armed battle broke out near the 40th and 38th pillars in the north of Maungdaw township following the aggression of Burmese army personnel in the AA controlled areas. Since then, the military bases along the international border started deserting one by one.
Lately, the areas along the border from 40th to 50th pillar had fallen into AA hands. The entire locality is adjacent to Taung Bro town, which is opposite to the Bangladesh village named Kong Don.
Moreover, gunbattles are taking place every day in Paletwa township and its surrounding areas, said a local resident adding that the villagers are now suffering from the clashes.
The AA spokesman Khaing Thukha confirmed that there were reports of injuring both sides in the gunfighting.
According to a strategic analyst the Burmese army retreated from areas under 50th pillar along the Myanmar-Bangladesh border but now the junta forces have concentrated in areas under 40th pillar.