Military council forces suffer casualties, AA seizes weapons and ammunition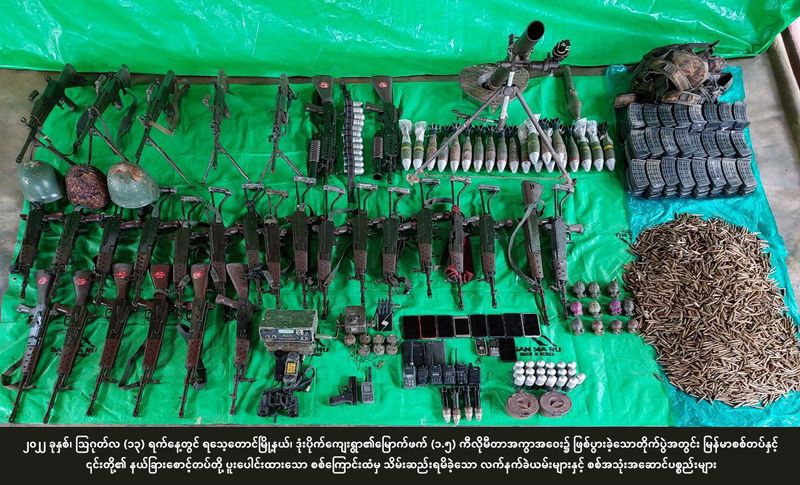 Narinjara News, 15 August 2022
In four incidents of gunfighting on 13 August in Rathedaung and Maungdaw Township, the military council forces suffered casualties, claimed by Arakan Army (AA) spokesperson U Khaing Thukha. Speaking to Narinjara News, he also informed that AA members seized a number of weapons and ammunition.
"The clash between the Myanmar army personnel and AA members broke out on the road near to Don Baik village under Rathedaung township. During the encounter, the government forces had suffered casualties. Our brave members also seized some weapons and ammunition," he added.

On Saturday at around 8 am, a clash between the two concerned parties erupted in Mayu mountain range. The Burmese army killed more than 30 people and also seized weapons and ammunition, he said.

AA also reported in its press release on Monday that 31 Burmese soldiers were killed and many weapons were also seized by the AA members.

Another battle took place near Waila Taung mountain in the north of Maungdaw township and the government forces faced casualties here too. Khaing Thukha claimed that AA members seized weapons and ammunition from the possession of soldiers.

A local villager said that he saw a few dead bodies belonging to the military council on Angu Maw and Maungdaw road between Don Baik and Changkhali villages, where the fighting took place in the morning of August 13.

"I saw the bodies as I was passing by a motorcycle. It may be 3 to 4 bodies. I was scared and left the place urgently," he added.

Villagers informed that over 500 people from Changkhali village left their residences to take shelter in nearby villages Than chaung and Thane Tai Aung village, which are located in the east of Mayu mountain.
( The weapons and ammunition in the photo were seized by AA during the fighting near to Don Baik village under Rathedaung township on 13 August)