Myanmar uses Bangladesh airspace to attack AA by helicopters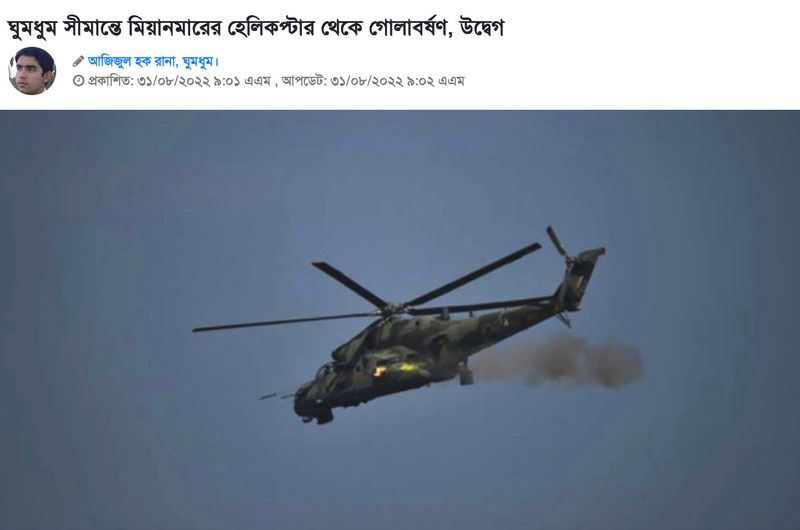 Narinjara News, 31 August 2022
Myanmar military junta has used Bangladesh airspace to attack the Arakan Army (AA) by its helicopters.
The fierce fighting between the junta forces and AA members has been taking place since the middle of August after the AA conducted an offensive against the government forces along the international border with Bangladesh.
On 30 August, a Russia-made Mi 35 helicopter belonging to Myanmar air forces entered into Bangladesh airspace and attacked AA members in the morning hours.
The Bangla media reported about the incident saying that the Myanmar forces on Tuesday crossed the international border and fired multiple shells on the hills at Ghumdhum union in Bandarban's Naikhongchari township.
Ghumdhum union chairman Md Jahangir Aziz Chawdhury confirmed that the Myanmar military helicopter was seen flying inside Bangladesh from 11 am to 2 pm.
"The helicopter was seen roaming in the airspace of Bangladesh," he said, quoting locals in the border areas.
BGB headquarters director (operation) lieutenant colonel Faizur Rahman informed the journalists that they received the input.
"The information is being verified," he added.
On 28 August, two heavy mortar shells, reportedly fired from the Myanmar side, landed next to a local mosque inside Bangladesh at Tumbru of Ghumdhum union, which caused chaos among locals.
Earlier on Monday, Dhaka summoned Myanmar's ambassador to Bangladesh Aung Kyaw Moe to lodge a protest against shelling of two mortars that landed inside its territory.
"We have asked them to make sure that such an incident is not repeated," said Bangla foreign secretary Masud Bin Momen.
But even after the development, the Burmese forces used Bangladesh airspace to target AA members with its helicopter.