Rakhine village in Buthidaung township set on fire by junta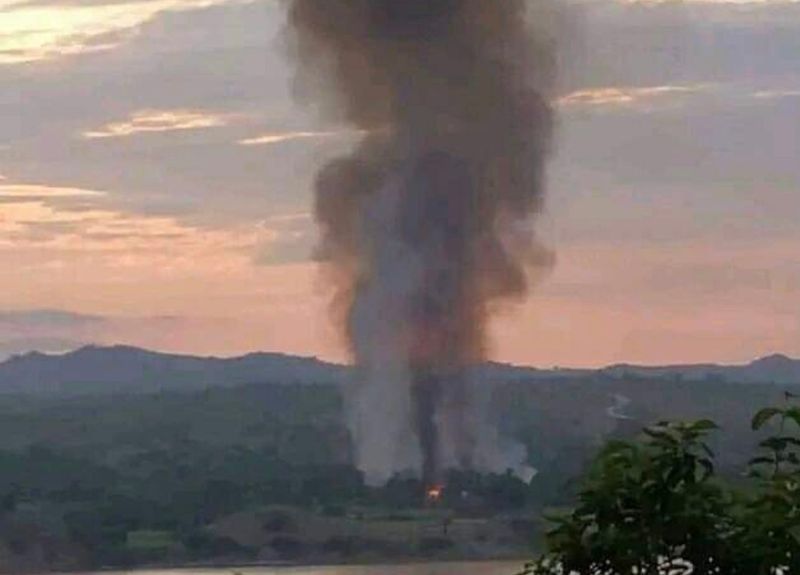 Narinjara News, 25 September 2022
The military junta forces have burnt down a Rakhine village in southern Buthidaung township bordering Bangladesh.
Thapike Taung Rakhine village was set on fire by Junta forces after a series of artillery shells was fired targeting the village, claimed the residents.
A number of villagers from Thapike Taung Rakhine village, fled their places Friday evening. The village has 60 houses and about 300 people.
"The Nakha Kha (8), border police headquarters fired the artillery on several locations within 7 am and 11:30 am on Friday. At least three shells fell in the south of our village (Thapike Taung).
Another shell fell in the northern Muslim village that injured two people. Many villagers have fled to Buthidaung in search of shelter," said a villager.
As many villagers left their places a group of junta soldiers and border police personnel entered Thapike Taung village in the evening of the day. They continued firing gunshots and even set some houses on fire.
Another villager informed that only a few elderly people are now left in the village. They can not run and even move because of various physical problems, he added.
The telephone and internet services have been restricted in those areas and hence it is difficult to get proper information about those elderly villagers.
At least three shells were fired over Thapike Thapike Taung village at noon on Saturday. It compelled the villagers to leave their places.
Arakan Princess Media reported with a photograph that the military council's battalion number 210 burned Thapike Taung Rakhine village at around 9 pm on Friday.