More than 4000 people who fled the Rakhine war appeal for emergency food aid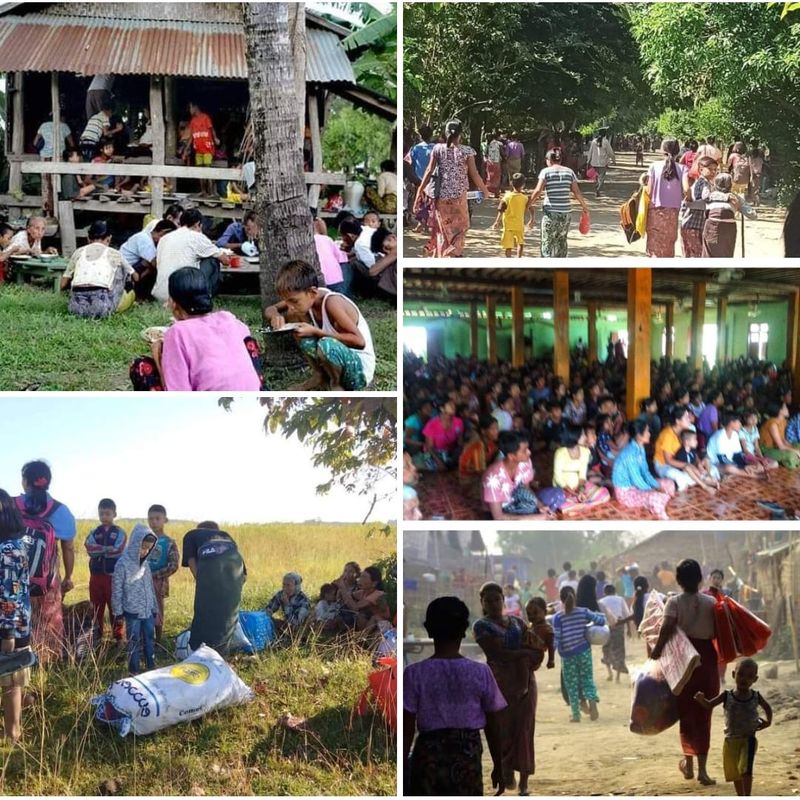 Narinjara, November 15, 2022
Four days of airstrikes using helicopters and drones, and deliberately firing artillery on residential areas carried out by the Military Council, forced about 4000 local villagers to flee from their devastated villages in Ponnagyun Township of Rakhine.
They are now in desperate need of humanitarian aid.
In addition to firing artillery the Military Council tortured and killed many villagers, hence the local population had to run for their lives without taking anything, except the clothes on their bodies.
A monk who is helping the internally displaced people (IDPs) reported " they need not only food, but also commodities like clothes, blankets, mats and waterproof tarpaulin sheets. The main need is food. Casual and warm clothes are also needed. Currently our monastery is feeding the IDPs. There are still two days' worth of food donated by donors. If that runs out, there won't be any left. So it would be great if people would come and donate to those in need", the monk said.
Also now that winter has started in Rakhine State, it is getting colder. Therefore warm clothes and blankets are also needed for IDPs. In addition, many IDPs are having trouble getting clean drinking water.
Currently the roads and waterways connecting Sittwe to Ponnagyun, Kyaukdaw, Mrauk-U and Minbya Townships are forcefully closed by the Military Council. That is why it is difficult to deliver the supplies needed by the IDPs, explained one person helping the refugees.
"The roads are still impassable. We already have gathered supplies. We go as far as we can to go and send aid. We can only do that much. The roads are still closed so there are difficulties buying food. The Military Council should reopen the roads for humanitarian aid. Those who are in other townships also should donate as much as possible to the needy places", he said.
A significant number of infants, pregnant women and the elderly were among the more than 4000 IDPs.
The people have fled from villages of Sin Inn Gyi, Padaytha, Kyaw Zan, Kywe Htoe, Tan Koh, Tan Swe, Thin Pone Tan, Yar Chaung, Nghet Kyee Kyun, A Le Kyun, Yay Pauk Chaung, Nat Sate, and nearby hamlets in Ponnagyun Township.
On the morning of November 10, the Arakan Army (AA) attacked the Military Council troops on Yangon-Sittwe Road between Sin Inn Gyi and Padaytha Villages with a landmine, destroying a military vehicle and killing some Junta soldiers. After that the Military Council bombarded residential areas with artillery and started killing civilians.
Locals also said that the Military Council attacked some villages in Ponnagyun Township
using drones, artillery batteries and combat helicopters were deployed from November 10 -13.

(Photo by Khine Murn Chun)