Artillery shelling of Rakhine's Kyauktaw kills 3 and injures another 4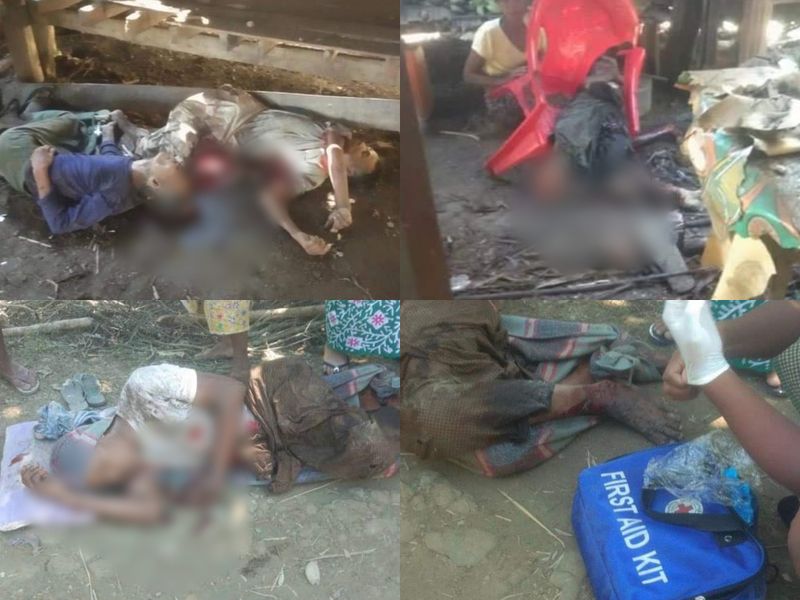 Narinjara News, November 16, 2022
An artillery shell fired by the 539th Battalion of the Military Council based in Kyauktaw Kansaut in Rakhine State exploded in Chaung Tu Village, killing 3 men in their 50s and injuring 4 others.
A villager said that around noon on November 16, an artillery shell directly hit a house in the center of the village while people were gathering and talking there.
After some gunshots were heard from the side of Sanwin Hill in Kyauktaw, the 539th Battalion bombarded the area and a shell fell straight into Chaung Tu Village.
A villager reported, "At around 12:00 in the afternoon, a shell directly hit people who were huddled on the eaves of a house. They shotdeliberately into the village. We were all very shocked", he said.
The same villager added "About 20 gunshots were heard from Sanwin Hill at around 10:40 AM. The Military Council soldiers were stationed on that hill. The exact cause of the gunshots is unknown.Shortly after the noise of gunfire, the 539th Battalion started firing artillery and a shell landed in the village", the villager added.
The deceased were U Aung Kyi Maung (53), U Phyu Tha Tun (60), and U Khin Maung (55). They were directly hit by an artillery shell and died on the spot.
The wounded people were Ma Aye Nu Yi, a schoolgirl, U Maung Maung Htay, Ma Aye Than Nu and Daw May Thar Sein and all were transported to hospital. After the artillery round hit the village and killed people, the villagers of Chaung Tu were in great panic and some of them fled their homes.
Colonel Kyaw Thura, Border Security Minister of the Military Council of Rakhine State, was contacted byphone regarding the artillery fire but there was no answer.
At least 10 people were killed and dozens injured within a month as the Military Council conducted deliberate artillery bombardments on residential villages.