Three people arrested in Myebon township were released and one of them hospitalized due to the inhuman torture by the Junta forces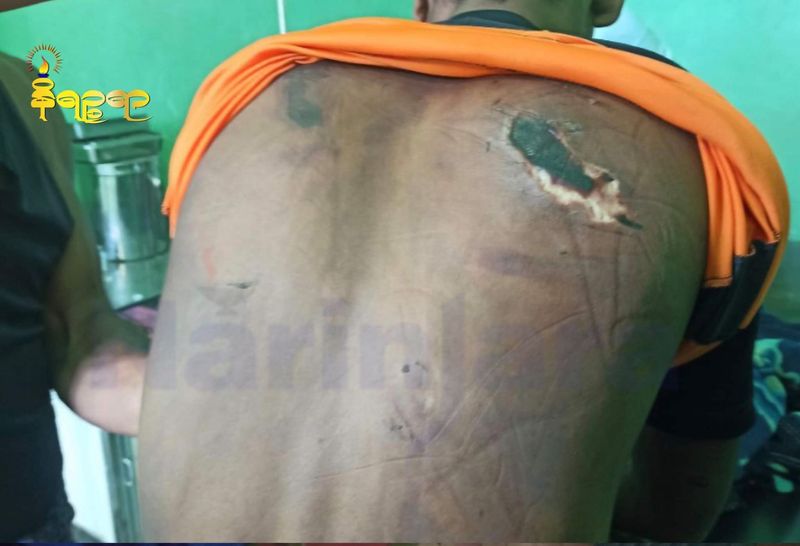 Narinjara News, November 25, 2022
Three locals from Wat Khaung village in Myebon township of Rakhine State, arrested by the Military Council were released on November 23 but one of them almost immediately collapsed and fell unconscious due to the inhumane and brutal interrogations, and was hospitalized.
The three of them were arrested by the troops of the 541st Battalion near the Myebon-Pauktaw Checkpoint on 18 November, 2022.
The witness told Narinjara " Around 12:00 PM, they were released near the Min Bar Gyee neighborhood. One of them returned to his village. Among the remaining two, one was so seriously injured that he fell unconscious and was taken to the hospital. He got many injuries on his back, legs and hands as the handiwork of the soldiers. He was still unconscious when I arrived."
The person hospitalized was Ko Aung Win Soe (26), son of U Nga Me Chay and Daw Aye Chay.
"I saw a lot of external injuries on his body. Bruises on his wrists from being tied with ropes and healso had injuries on his legs. I found knife wounds on his back. I couldn't look closely because hewas asleep. A big drip bottle was attached to him (for intravenous therapy). Another person who escaped with him says that he is now awake," the witness said.
Hospital officials have asked him to be discharged as soon as possible, fearing that the army will come looking for him again.
In Rakhine state those arrested by the Military Council troops, are often suffered to inhumane tortures, which is feared by all detainees.
Ko Kyaw Win Hlaing (32) from Mrauk-U's Kyauk Riz Kay neighborhood was seriously injured during the brutal interrogations by the Military Council, but because Sittwe Hospital did not accept him, he was transferred to Yangon People Hospital on July 4.
There are widespread reports that Rakhine businesspeople, philanthropists, social activists, innocent civilians as well as monks are being arrested and inhumanely tortured during interrogations by the Military Council troops.