Military council chairman, Thai army chief arrive in Thandwe for 7th Thailand-Myanmar meeting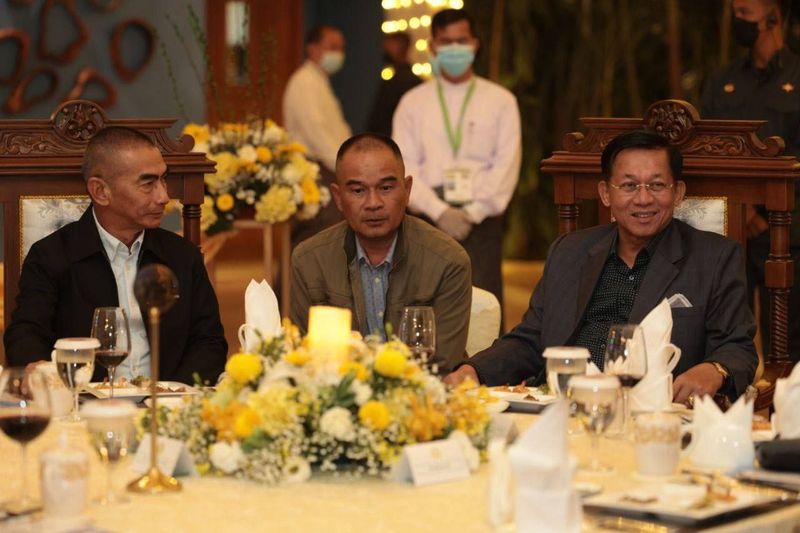 Narinjara News, 20 January 2023
The military council chairman senior general Min Aung Hlaing and Thailand royal army chief general Chalermpol Srisawat have arrived at Rakhine's Thandwe amidst tight security arrangements in the morning hours of Thursday.
Both the military leaders are attending the 7th Thailand-Myanmar high level committee meeting, which is scheduled to be held at a Ngapali beach till 21 January.
According to local witnesses, senior general Min Aung Hlaing and Thai general Chalermpol Srisawat arrived with their military airplanes at Mazin airport at around 10 am.
"A large number of security forces are being deployed everywhere along the road connecting the airport and Ngapali beach. There were many vehicles on the road as they came out from the airport. Local people were not allowed to walk on the road during that period," said the local residents.
Regarding the meet, the Thai representative revealed that it is a regular discussion aiming to increase military cooperation between the two neighbouring countries and finally to maintain the security and peace along the border localities.
A Thandwe resident informed that the security net was very tight in both Thandwe and Ngapali areas.
"In earlier occasions, when the Presidents or heads of the State came, they usually kept open the vehicle windows to greet the people on the road. Now, there is a change, and all the cars are filled with security forces. It may be because of extreme security concerns," he added.
After completion of the ongoing 8th meeting in Thandwe the next one is expected to be organised in Thailand
A source close to the Rakhine State government informed that premier Dr Aung Kyaw Min along with many State ministers and military council officers had arrived in Thandwe three days before the meeting.
The security scenario is satisfactory till now, as the Arakan Army (AA) has not operated in all areas of Thandwe district. But many AA members had already entered into the district.
The government forces are engaging in crack down operations and the authorities remain busy in picking up AA supporters and even putting many of them in prisons.