Fuel prices continue to increase in Rakhine State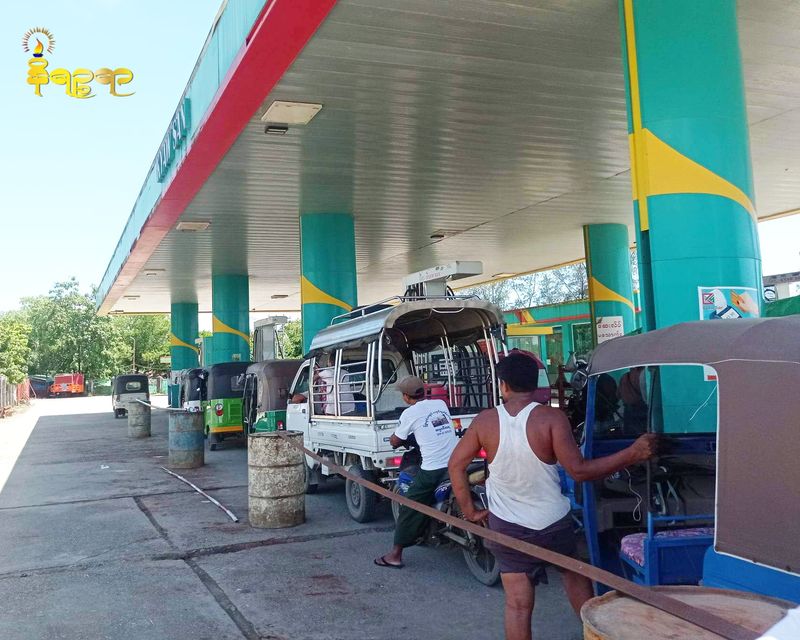 Narinjara News, 22 January 2023
Even though the roads of Rakhine State have been reopened after the informal ceasefire between the military council and Arakan Army in the State the fuel prices continue to increase, alleged the residents.
With the rise of fuel prices, the people in various sectors like social (relief) work, transport companies, construction companies and other establishments still face difficulties in moving for their works.
A female student from Sittwe University said that the price of gasoline (petrol) in Rakhine is around Kyats 2,500 per litre. Its price is also going up in the last few weeks.
"I am paying even Kyars 1,000 for the one-way car fare to arrive at the school. Earlier it was around three to five hundred Kyats in one way travelling. Now we cannot afford the rising fees. All students are facing the difficulties." added the student.
Many students have stopped going to school daily. They only reach the school on important occasions. Even for those who have motorcycles they have to spend more money on fuel.
On 21 January 2023, a litre of octane was sold at Kyats 2,450 at Shwe Yoma fuel station. The Premium is being sold at Kyats 2,705 per liter and diesel at Kyats 2,625 per liter. In some Rakhine townships the octane is being bought with Kyats 2,700 per liter.
U Nyi Pu, Pure Love Charity Association chairman from Kyauk Taw informed Narinjara News that with the increase of fuel prices in Rakhine State it has created problems while transporting the volunteers to support the patients under medication.
"As the fuel price is higher in our place, we simply cannot transport the patients to the hospitals. Now the patients are being appealed to pay some amount of money for the cause," he added.
During the period, when the military council forces and AA members were fighting fiercely in Rakhine State, the fuel prices started increasing up to Kyats 3,000 per liter.
Now the informal ceasefire is in place and all the land & water routes have been opened. However, the price of fuel is rising to Kyats 2,500 per liter, added the residents.