Military Council restructures special investigation tribunal established for 2017 Chut Pyin village incident in Rakhine State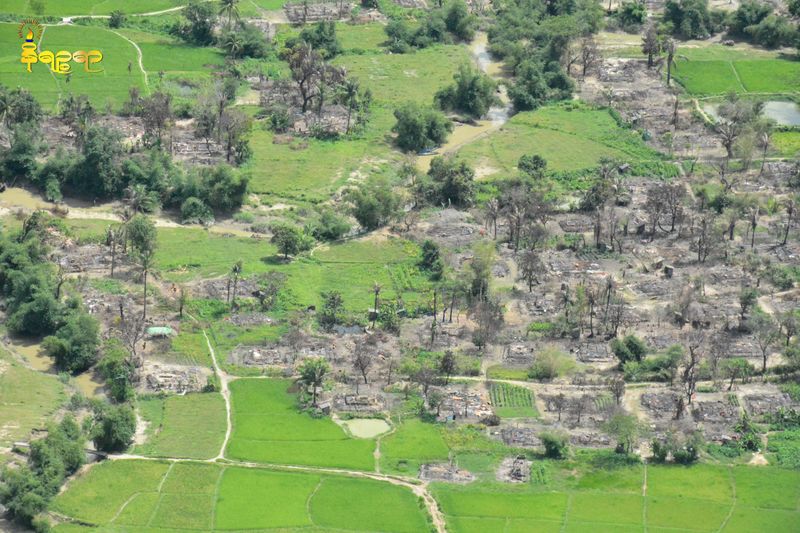 Narinjara News, January 25, 2023
The Military Council announced today that it has restructured a special investigative tribunal established to investigate a massacre occurred in Chut Pyin (Muslim) village in Rathedaung Township, during the conflict that broke out in Rakhine State in 2017.
After turning a blind eye to the Chut Pyin village incident for a long time, the Military Council's efforts to establish a new special investigative tribunal and resume investigations may be due to international pressure, U Aung Thaung Shwe, a former Pyithu Hluttaw (House of Representatives) representative from Buthidaung Township, told Narinjara.
" I think they are doing this to lure an internationally acceptable situation. How transparent the investigations will be depends on their work. We should watch how much international recognition their actions will have", he commented."
Junta-controlled media reported on January 24th that Major General Myat Kyaw, who was assigned to conduct the necessary investigation to uncover the facts regarding the Chut Pyin village incident, had now retired, hence the special investigative tribunal had to be revamped.
In the new formation of the special investigative tribunal, Brigadier General Soe Tint replaced Major General Myat Kyaw as the chairperson, and Colonel Than Hlaing and Colonel Myo Aung joined as members.
A special investigative tribunal led by Major General Myat Kyaw was formed by the Myanmar Military on July 2nd, 2020, to find out about the incidents that took place in Chut Pyin village of Rathedaung Township and Maung Nu (Monu Para) village of Buthidaung Township, in connection with the violent attacks that occurred in August 2017.
The special investigative tribunal claimed that it had already conducted thorough investigations into the incident in Maung Nu village. However, regarding the incident in Chut Pyin village, the investigation has been temporarily suspended due to the fact that the residents in and around the village no longer live there, the Covid-19 epidemic, and restrictions on travel, it said.
The newly formed special investigative tribunal will continue to take over the unfinished investigation of Chut Pyin village, the Military Council stated. The special investigative tribunal will only present the results of the investigation to the military court, and the military court will decide on any punishment.
At midnight on August 25th, 2017, ARSA armed insurgent group attacked more than 30 border guard police outposts and a Myanmar Military battalion in Buthidaung, Maungdaw and Rathedaung Townships simultaneously.
In the aftermath of that attack, the Myanmar Military torched houses and committed massacres in Chut Pyin and Maung Nu villages while conducting area clearance operations, locals alleged.
On January 21st, 2020, the Independent Commission of Inquiry (ICOE) released a report on the incident, stating that around 100 people including ARSA insurgents and Muslim civilians in Chut Pyin village, and a population between 100 and 200 in Maung Nu village, were slain.
The systematic campaign in 2017 resulted in the massive bloodshed in Rakhine state primarily directed at Rohingya people and other Muslims. An estimated more than 700,000 Rohingya Muslims had fled to neighboring Bangladesh, according to international organizations.
There were also a few deaths of security forces, as well as Rakhine, Mro, Thet, Daingnet, Maramagyi and Hindu tribes.Tens of thousands of people from local Rakhine and Rakhine comprises ethnic groups have fled to nearby cities.