Number of young people from Rakhine IDP camps leave to work in neighboring countries increased due to livelihood hardships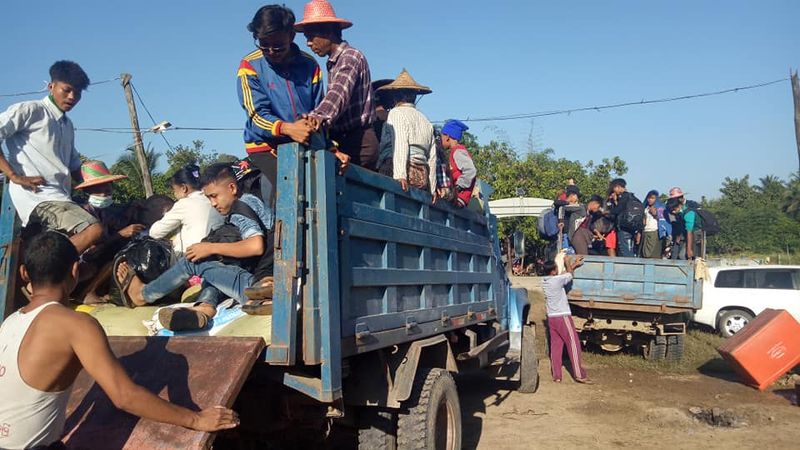 Narinjara News,

J

anuary 26, 2023
Camps for the internally displaced persons (IDPs) in Rakhine do not receive regular food supplies become livelihood hardships, a large number of young people, including women, are leaving for China, Thailand, Malaysia and Hpakant region of Kachin state.
A woman who displaced the war in Kyauktaw Township said, "Some people in IDP camps do casual work for daily wages, but jobs are scarce. They have not received help from international NGOs for a long time. They have not received rice rations from the Ministry of Social Welfare, Relief and Resettlement (MSWRR) for about 6 or 7 months. Livelihood has become difficult, so they have to go to work in neighboring countries.
She said that when they left, they had to either borrow the necessary travel expenses or sell their assets.
"They all go abroad. There is no work here. If you go abroad once, you have to spend more than 4,000,000 kyats. It is convenient for people who have money to go abroad. Even when we are in trouble, we have to borrow money. If you stay here, you will starve to death. I don't want to let go of my daughter either, but things are not going well here, so I sent her to Malaysia. I want to say that there are no boys or girls left in our camp or in the village," she said.
She said that the World Food Program (WFP) provides 21,000 kyats per month to Rakhine IDPs, but that 21,000 kyats is not enough for the whole month. Those who go out to work are often unemployed due to the lack of jobs. The Military Council's MSWRR has not been supplied with rice for about 6 months and don't want to die of starvation, so they are selling their belongings, including gold, and going abroad.
As Rakhine IDPs go abroad to work, they borrow money from their close relatives and go abroad illegally, said a refugee from Yay Phyu Kan IDP camp in Ponnagyun Township.
"In our relief, the livelihood is completely insufficient and there are no jobs, so they go to work in neighboring countries. When they go, they borrow money from others. They go to Malaysia, Thailand, and Phakant. We have not received rice from MSWRR since last June. We have no jobs to stand on our own feet, so we have to borrow money from here and there," he said.
In the past, the Ministry of Social Welfare, Relief and Resettlement (MSWRR) of the Military Council for Rakhine IDPs used to provide rice, but currently the supply of rice has been stopped for almost a year in some IDP camps, and in some camps it has been almost 6 to 8 months according to IDPs.
Due to the scarcity of jobs and economic difficulties in Rakhine, not only IDPs, but also many local people are leaving as migrant workers abroad, and this year there are more people leaving, according to those helping migrant workers.
Migrant workers from Rakhine travel to work in Thailand, Malaysia, Singapore and China, both legally and illegally. Illegal visitors often face arrests, as well as deaths and disappearances.