Young woman hoists Rakhine flag atop 11900 feet Phong Kan Razi mountain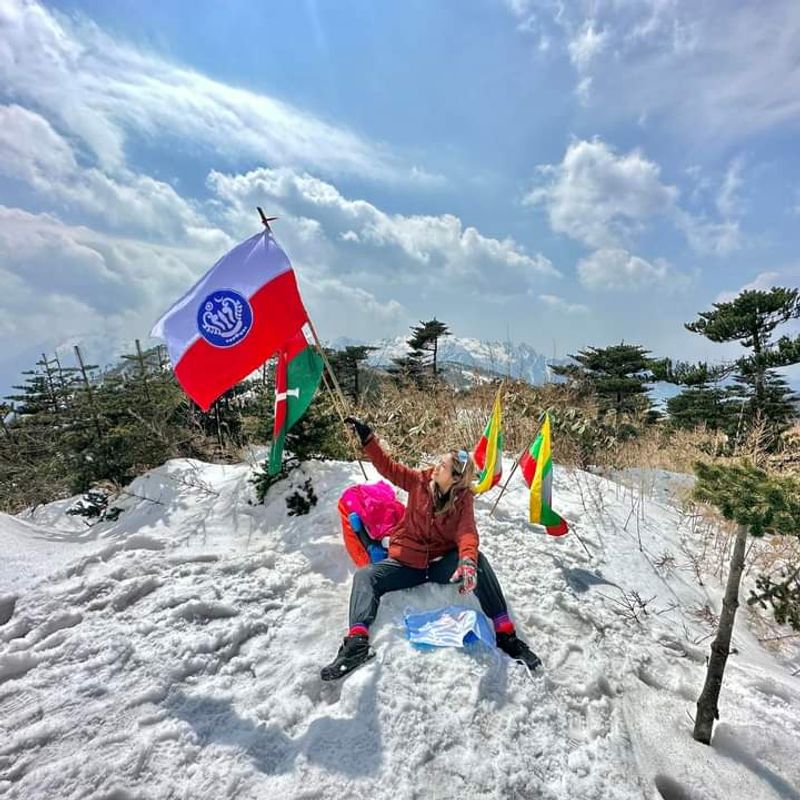 Narinjara News, 15 March 2023
An Arakanese young woman from Kyauk Phyu hoisted the Rakhine flag on the 11930 feet high Phong Kan Razi mountain at Putao of Kachin State.
The traveler and blogger Ma Aye Thadda Hlaing became the first Arakanese to climb the mountain.
"I went up there to plant the flag though it was not easy to reach the top. Weather condition was too bad. Finally I succeeded in my mission to erect the Arakan flag in the middle of the mountain top. As a Rakhine, I was very proud to be able to raise the flag at the top of the mountain. I feel proud of it," said the lady activist.
The said mountain is 53 miles away from Putao and 31 miles to the foot of the ice mountain and 22 miles to the top from Ziadam village.
The glacier is located on the Myanmar-India border and inhabited by the Rawan ethnic group.
A large number of tourists visit the place every year.
Aye Thadda Hlaing is associated with the tourism sector. Born in Kyauk Phyu, the blogger lives in Rakhine State and her aim is to promote tourism in Myanmar.