Myanmar delegation reaches Bangladesh to observe refugee repatriation initiative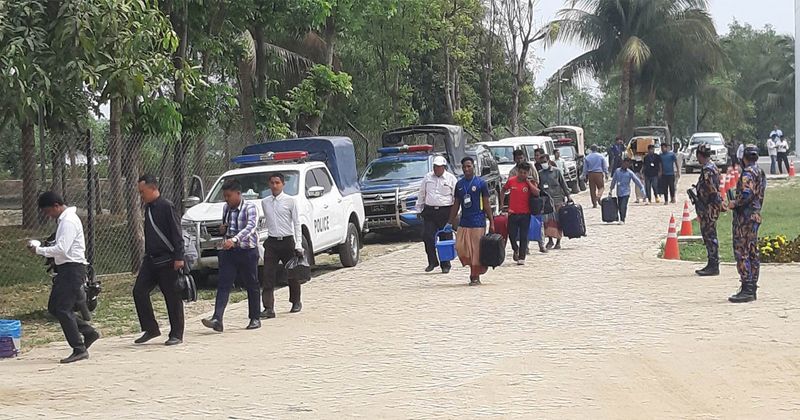 Narinjara News, 16 March 2023

A 22-member delegation from Myanmar has arrived at Teknaf township of Cox's Bazar in south Bangladesh to observe the preparation for repatriation of Rohingyas, said a report in Dhaka Tribune.

The visit followed after a group of envoys to Myanmar including the embassy heads and diplomats of ASEAN countries along with China, India and Bangladesh paid a visit to some repatriation camps in Maungdaw township of Burma.

On 8 March, the group of diplomats visited the Rakhine region to assess the ground situation before the Rohingyas return back to Arakan State.

The Myanmar delegation arrived at Teknaf jetty ghat by a speed motorboat through Naf river on Wednesday morning from Maungdaw township.

The officials from Refugee Relief and Repatriation Office as well as BGB & law enforcement personnel welcomed the team.

Refugee relief and repatriation commissioner Mohammed Mizanur Rahman informed that the delegation would meet with the concerned officials and exchange views with some Rohingyas as well.

The delegation will also verify the list of Rohingyas willing to return to Myanmar. They are supposed to visit some Rohingya camps also, reported Dhaka Tribune quoting Rahman.

Over 1,000 Rohingya can be taken back under the family-based repatriation process. It includes hundreds of Hindus too.

Bangladesh government in Dhaka recently handed over a list of more than 1,000 refugees to the Myanmar authorities to verify it for proceeding under a repatriation pilot project.

Both the neighbouring countries have been working to start the pilot project for the long-awaited Rohingya repatriation initiative before the rainy days begin. Myanmar government agencies have been verifying the list of refugees.

A list of 862,000 Myanmar Muslim refugees was previously sent to Myanmar, following which the Myanmar authorities agreed to take back about 70,000 individuals.

Bangladesh, which hosts over one million Rohingya refugees after they fled a brutal crackdown in Rakhine State by the Burmese military personnel in 2017, has long been urging the international community to pressurize Myanmar to speed up the repatriation process.