Ethnic minority strength crucial for establishment of federal democratic union FPNCC statement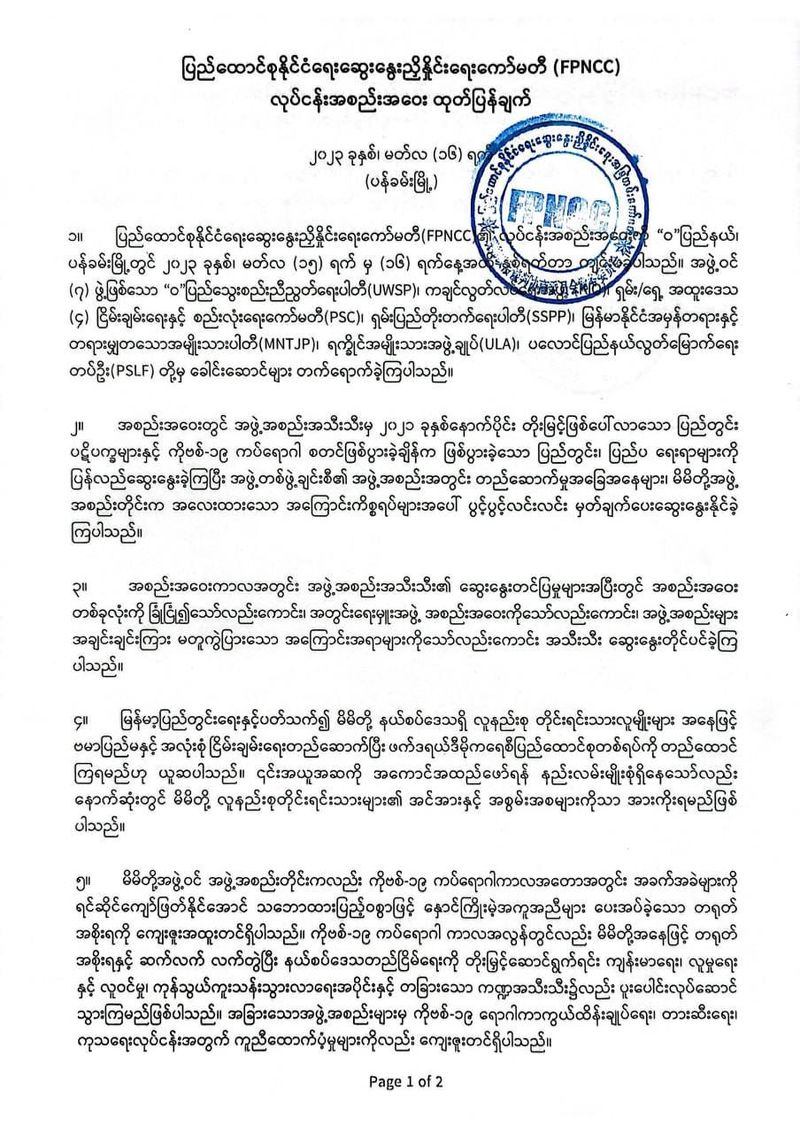 (Welcoming and supporting China's intervention to resolve internal conflicts)
Narinjara News, March 17, 2023
The Federal Political Negotiation and Consultative Committee (FPNCC) recently held a meeting from March 15 to March 16 in Pangkham (Pangsang), Wa State has released a statement.
The FPNCC emphasizes that the minority ethnic peoples in our border regions, must build peace with the mainland of Myanmar and establish a federal democratic union. While there may be multiple strategies to implement this idea, ultimately the ethnic minorities must rely on their own strengths and capabilities.
The FPNCC statement also expressed support for the involvement of the People's Republic of China in resolving internal conflicts in Myanmar.
FPNCC also expressed its special gratitude to the Chinese government for providing assistance to all FPNCC members to help them overcome difficulties during the Covid-19 pandemic.
Furthermore the FPNCC stated in the aftermath of the Covid-19 pandemic, they plan to continue working with the Chinese government to enhance stability in the border region and collaborate on various issues including health, social welfare, immigration, trade and other sectors.
Leaders from various organizations, including the United Wa State Party (UWSP), Kachin Independence Organization (KIO), Shan State East Special Region 4 Peace and Solidarity Committee (PSC), Shan State Progress Party (SSPP), Myanmar National Truth and Justice Party (MNTJP), United League of Arakan (ULA), and Palaung State Liberation Front (PSLF), gathered in Pangkham (Pangsang), Wa State for the meeting.