Done Paik and Kyein Karli residents flee as fighting erupts between Inn Dinn and Koe Tan Kauk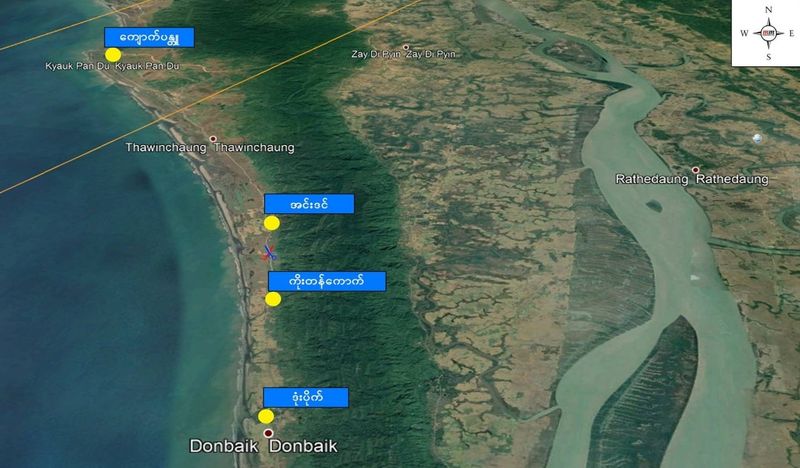 Kaing Lu Hla (Yoe Ma Myay)

Narinjara News, 13 July 2020
Clashes between the Tatmadaw and the AA took place today on the border between Maungdaw and Rathedaung townships, according to reports from locals. Fighting occurred between Maungdaw's Inn Din village and Ko Tan Kauk which lies in Rathedaung.
One resident from Koe Tan Kauk says he heard the sound of shooting from around 10am to around midday. After a heavy downpour the shooting had stopped, he said.
"The fighting wasn't too far away from our village. I guess they were fighting where they had fought before, around Hsar Ngan Chaung. I think the military were coming from Maungdaw side when the clashed with AA. We heard shelling and gunfire. People didn't flee from our village, there's a Border Guard Police outpost here so we will just stay put for now," he said.
Around 20 vehicles were blocked on the road between Maungdaw and Ah Ngu Maw due to the fighting, and people travelling from Sittwe were only able to continue their journey to Maungdaw after 4pm, according to a resident from Ah Ngu Maw.
One monk from Done Paik village was contacted and explained the situation. "Many villagers from Done Paik villagers have already left, but not because of today's fighting. They left yesterday, when they started hearing the sound of gunfire. When Tatmadaw troops arrived in the village people were afraid and ran. There are more than 240 households in the village" he said.
One military troop that had set up in the BGP camp in Done Paik village had used artillery and small arms, shooting in the direction of the Mayu mountain range, he said.
People who had fled Kyein Karli had gone over the Mayu mountain range and arrived at Aung Seik and Than Chaung village, according to one resident of Aung Seik, U Maung Tin Win.
"Currently around 200 people from Kyein Karli have arrived, most have set up here in Aung Seik and the others have gone to Than Chaung. Right now they are having to make do with space in the village, and we are by ourselves when it comes to providing food and water for them. If they stay much longer we will need help," he said.
He explained that amongst the community there are serious concerns over the frequent gunfire and clashes amidst the heavy rainfall in the area.