29 boat people to be resettled in Hla Pho Kaung under UEHRD program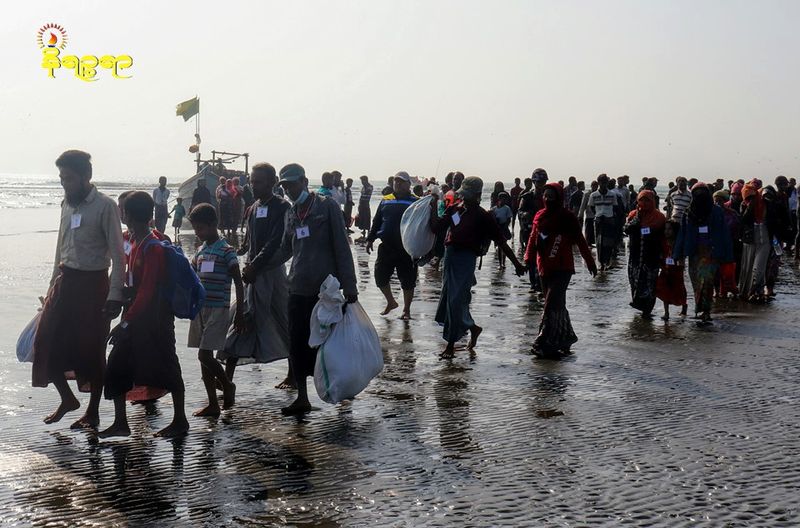 Narinjara News, 17 January 2020
Myanmar border authority has resettled 29 members out of 155 boat people, who were detained by the country's navy personnel in Andaman Sea during last December.

Altogether 172 boat people comprising 82 male, 68 female, 13 boys and 9 girls were arrested on 15 December from Thanintha Yee coast, as they tried to leave for Malaysia. The authority suspected that they came from the refugee camps in Bangladesh.

Later they were sent back to the Rakhine (Arakan) capital city of Sittwe on 8 January 2010.

As they arrived there, 17 boat people were identified as inmates of Sittwe IDP Muslim camp and they were resettled in the capital city. The rest were transferred to Nga Khu Ra repatriation center under Maungdaw Township.

Maungdaw district administrator U Soe Aung said, "We recognized 29 boat people among 155 were residents of Maungdaw district. So they were sent to Hla Pho Kaung centre to resettle in their original localities under UEHRD (Union Enterprise for Humanitarian Assistance,
Resettlement and Development in Rakhine) program."

The rest (126 boat people) is under investigating process. Till date, the UEHRD has repatriated over 500 people who came there voluntarily.

"All boat people claimed that they hail from Myanmar but we need to investigate carefully about their claim. If they are Myanmarese we have to resettle them accordingly," said U Soe Aung.

The authority would issue MVC cards to them if they are proved to be Myanmarese. Later they could apply for the citizenship with the help of MVC cards.

"When they arrive at Hla Pho Kaung transit centre, the authority will extend supports to them. But those people coming from Bangladesh will be sent back to their country," stated U Soe Aung.