Japanese peace envoy visits Rakhine, submits for re-election in deprived townships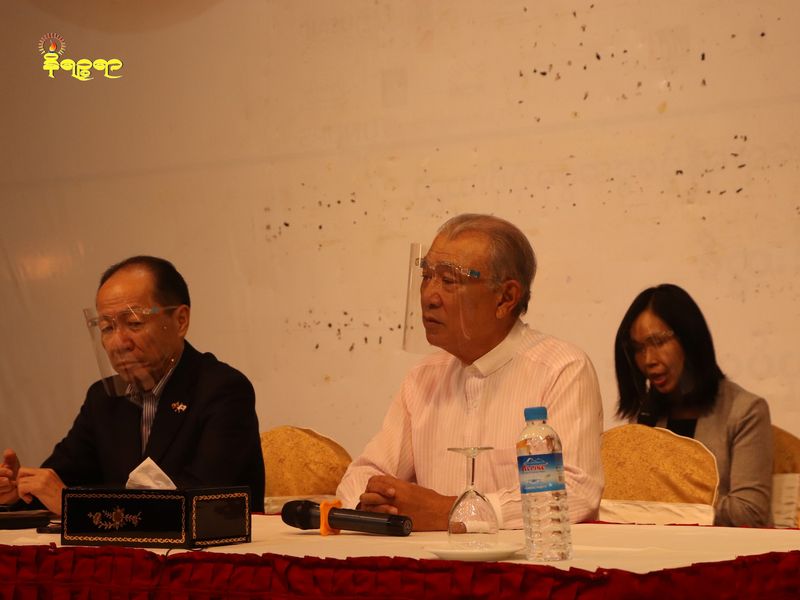 Ei Soe Pru and Shin Min Zan
Narinjara, 30 November 2020

Japan government's special peace envoy Yohei Sasakawa for national reconciliations in Myanmar visited Rakhine State on 28 November with a daylong program. He is expected to pursue for re-elections in nine deprived Rakhine townships with the Union Election Commission (UEC).

Yohei Sasakawa, also the chairman of Nippon Foundation, made the remark during a press conference held at Sittwe Hotel in the afternoon.

"I really want all Rakhine townships to embrace elections where the electorates could not vote during the national elections on 8 November last. In the midst of a difficult time because of the Covid-19 pandemic, the commander-in-chief of Myanmar Armed Forces has arranged this tour by military helicopters to study the prevailing situation in Rakhine. I will report to the UEC so that the deprived townships can be held the polls," he added.

Elections in Rakhine townships namely Maungdaw, Buthidaung, Rathedaung, Ponna Kyunt, Kyauk Taw, Minbya, Pauktaw, Mrauk-U and Myebon were canceled by the UEC for security concerns.

The Japanese envoy arrived in Sittwe from Rangoon in the morning hours and then flew to Kyauk Taw and Buthidaung by helicopter to meet with local people for understanding their perspectives regarding the polls.

"When we had the opportunity to talk to the people on the ground, they expressed their willingness to exercise their electoral rights," he stated.

After returning to Sittwe, Yohei Sasakawa met with the leaders of Arakan National Party (ANP), which won electoral victories in 7 Rakhine seats in the last national polls. They discussed the
possibility of holding elections in those nine townships.'

ANP spokesperson Daw Aye Nu Sein said that Yohei Sasakawa also provided $ 200,000 for IDPs in Rakhine State, informed ANP leaders, adding that the amount was provided by the Nippon Foundation for providing food items for refugees.

The Japanese envoy is mediating between the Tamadaw and Arakan Army (AA) for a probable ceasefire. His initiative has brought immediate reliefs to the people as the incidents of fighting have stopped in Rakhine State.

Earlier, a senior Tatmadaw official informed the media persons on 27 November about the peace negotiations.

Earlier, on 12 November AA leaders issued a statement asking for re-elections in those nine Rakhine townships. Tatmadaw personnel immediately welcomed the move by
AA leaders.

But the National League for Democracy led government in Naypyidaw has not clarified its stand over the matter. The political observes along with the Rakhine community continue waiting for Daw Aung Suu Kyi led NLD's responds to the vital issue.