Minor baby shot dead in Arakan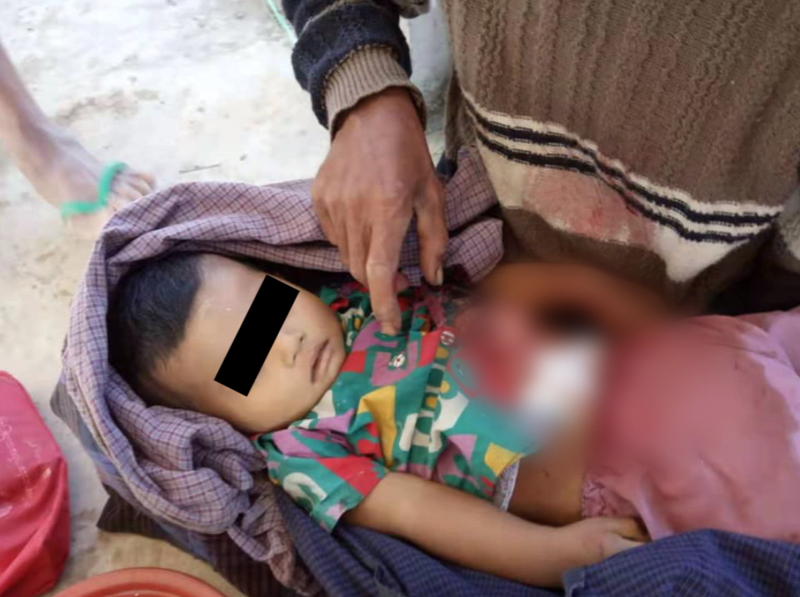 Narinjara News, 12 January 2020

A Ten months old baby was allegedly shot dead by the security personnel in Meabon township of Arakan on 11 January, as the child was traveling with his family in a small machine boat.

The victim has been identified as Maung Phyo Win, who belonged to the family of U Maung Aye Sein and Daw Hla Thien Oo from Nyung Kan village under Meabon township.

Mother of the baby informed that the incident took place at around 2 pm near to May Lwan village under the same township.

"We were taking shelter at Pardaw village under Mrauk U township for several days as a fierce fighting between Myanmar Army personnel and Arakan Army members broke out nearby to our village. Our family was returning home yesterday in a machine boat. When we arrived at the bank of the creek, the soldiers started shooting. One bullet hit our baby and he died on the spot," said Daw Hla Thein Oo.

Father of the baby (U Maung Aye Sein) waved his hat to convince the soldiers to stop the shooting, but they did not respond.

Mortal remains of Aung Phyo Win were brought to Minbya township hospital for the autopsy.

May Lwan village administrator said, "I come to know about the incident where a child was hit by bullets. Some soldier shot at the machine boat as it approaching the bank of the creek."

However Colonel Win Zaw Oo, spokesman of Western Command flatly denied
the allegation and clarified that there were no government forces in the concerned area during that period.

According to local villagers, incidents of fierce fighting broke out in three locations near to May Lwan village on 11 January where the security forces even used two helicopters to counter AA armed members.