AA denies involvement with murder of three villagers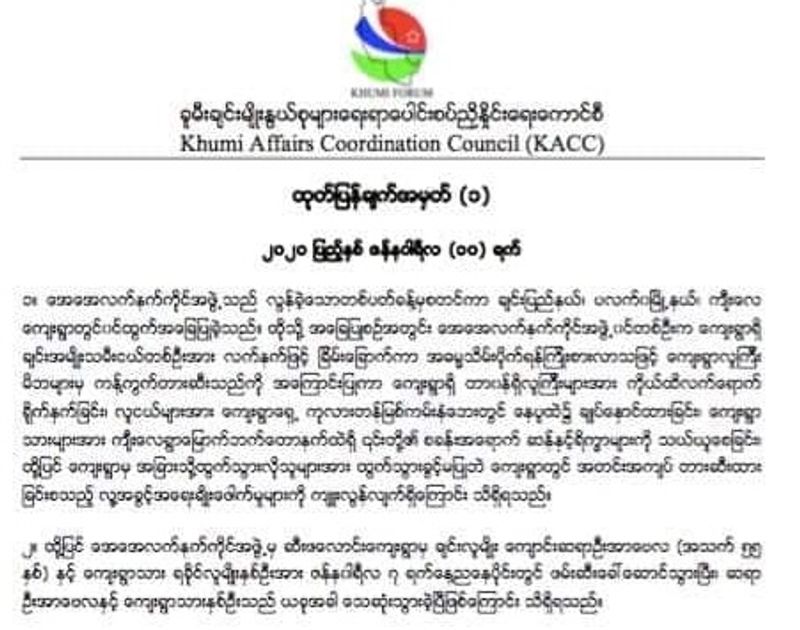 Narinjara News, 13 January 2020
Arakan Army (AA) has strongly refuted the accusations of Khumi Affairs Coordination Council (KACC) over the murder of three villagers in Paletwa township. The victims, including a rural teacher, were found dead on 11 January.

Earlier the KACC, in a statement, accused AA members of detaining a Chin teacher named U Arbay Hla (55 years old) from Se Palong village and two Rakhine nationals from Kyat Oowa village on 7 January.

AA spokesperson Khaing Thu Kha, while denying the accusation asserted that they are not involved with the murder.

Speaking to Narinjara through telephone, Khaing Thu Kha stated, "The area, mentioned as the venue of the murder, is totally controlled by Myanmar Army's 289 no battalion. Paletwa is a security zone and we have no reason to target the said victims."

AA also issued a media statement on 12 January clarifying their denial in response to KACC accusations. They alleged that it was done to malign the image of AA and also safeguard the real culprits. They assured all kinds of cooperation in unearthing the real murders.

KACC also alleged that one AA member physically assaulted a rural woman of Kyi Lay village who interfered in the incident.

It was admitted by AA leaders that the particular woman, who is the daughter of an army informer, was mildly beaten during the interrogation.

AA leaders have however stated that all accusations would be investigated by them and the guilty individuals would be punished under their rules.