Property looted, houses destroyed in Rathedaung, Buthidaung township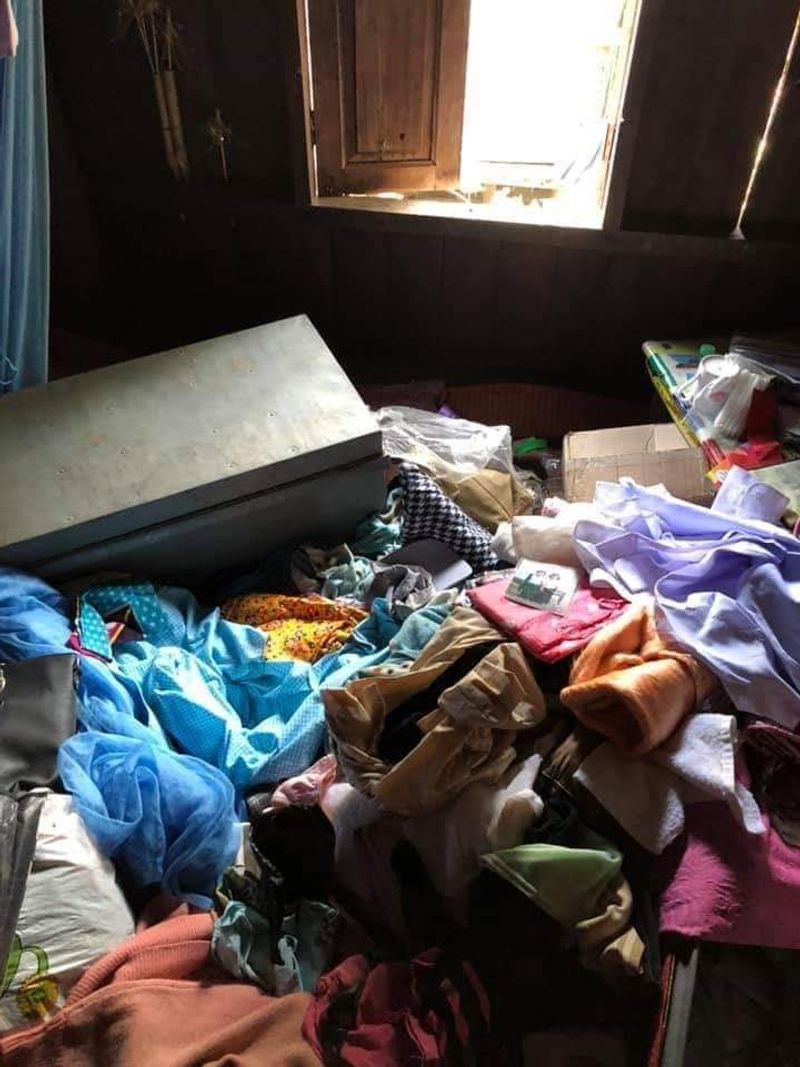 Saung Zar Chi
Narinjara News, 26 February 2020
Shops and houses were allegedly looted by security forces as the residents left Nga Tauk Tu Shay village (under Rathedaung township) and Kyein Kyaung village (under Buthidaung township) of Rakhine State in western Myanmar.

According to villagers, who spoke to Narinjara News, at 9 am on the 22 February around 80 Tatmadaw soldiers entered into Nga Tauk Tu Shay village following which the villagers left their residences. Later the soldiers took away the belongings and even cash from the shops and residences.

"Soldiers from Battalion 536 and 538, based in Rathedaung, took away goods worth Kyat 500,000. We heard four gunshots. We could bring nothing with us. The soldiers took away a large volume of clothes from my shop. They started vandalism by 9 am and continued till the evening," said a shop owner named Ma Kye Ri.

He also added that when the villagers came back they found various items were stolen from the shops and houses. Some item were thrown away by them.

U Maung Mya Aye, village administrator of Nga Tauk Tu Shay confirmed that they took away various materials from 140 households and useful items from different shops. They loaded all materials in a vehicle and left the village.

"No one dared to stay inside the village and they fled away. Prior to the arrival of soldiers in the village there were around 30 villagers. Their belongings were taken away by the soldiers. The matter has taken to the notice of township administrator," added the
village administrator.

Local villagers specifically claimed that wooden beams were taken away from the residences of Daw Moe Moe Nwe and U Maung Win Kye. At the same time, Kyat 150,000 were stolen from U Maung Thein Hla and Kyat 200,000 from Daw May U Khin's house.

"The soldiers came from a transit camp which is nearer to the village. I could see them when they crossed a stream to arrive in the village and interrogated four elderly persons who could not flee. They even fired few gunshots. Not only the useful materials, they had also
taken away television sets from the shops," said a resident from Nga Tauk Tu Shay village.

The villagers mostly left for Ah Ley, Pyin Khaun, Pyar Chaung villages under Rathedaung township. The localities are facing the troubles since September 2019.

Rathedaung township Parliamentarian U Khin Maung Latt, while speaking to Narinjara News, confirmed the disruptive activities of soldiers in the village. But he asserted that there was no clash in that area for some time, but the soldiers took advantages of the situation.

They took away various items worth Kyat 5 million, he asserted. U Khin Maung Latt assured that the matter would be raised with the Union government and National Human Rights Commission. He also stated that Arakan Army members had attacked the security forces in two occasions. The first incident was reported on 15 November and the second one was on 11 February. Later the soldiers came to the village and harassed the residents.

Western Regional Command spokesperson Colonel Win Zaw Oo and Tatmadaw True News Information team secretary Brigadier General Zaw Min Tun were unavailable to respond the queries.

Residents of Buthidaung's Kyein Kyaung village also alleged that the soldiers destroyed household items on 22 February. The forces are taking shelter in the village since 18 February last.

"The soldiers destroyed various useful items and even went on digging for valuable properties. They even broke down a monastery donation box. Electric lamps, other items and even livestock were smashed," said a woman from Kyein Kyaung village, which has around 50 households. Kyein Kyaung village administrator revealed that the matter was raised with the Buthidaung township authority. A number of pigs and chickens were found slaughtered for preparing food items Buthidaung township Parliamentarian Maung Kyaw Zan was apprised about the incident. He assured that after getting relevant documents he
would report to the higher authority.