Death toll rises to 11 as four bodies recovered in Mrauk U township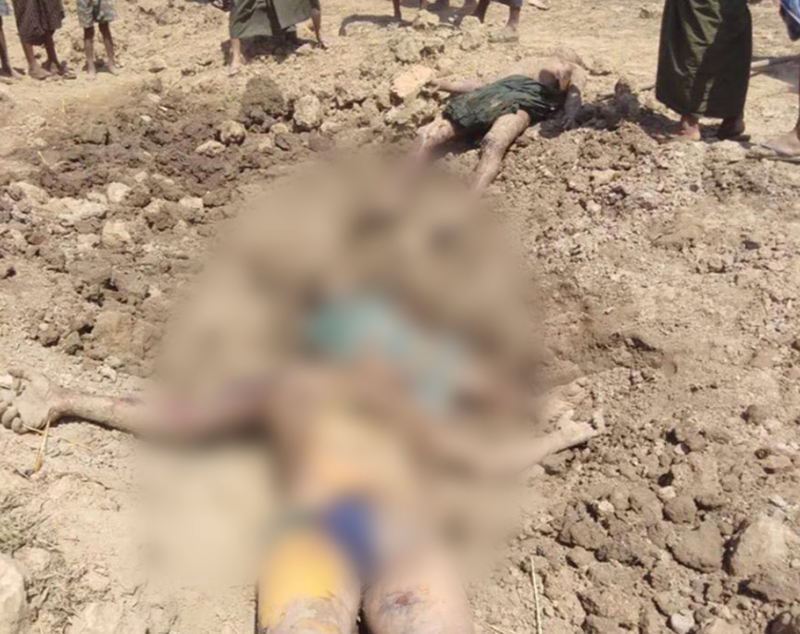 Narinjara News, 3 March 2020

Death toll in war torn Mrauk U township of Arakan reached 11 as four bodies were recovered in the last two days.

At least 17 villagers were missing from several villages under the township since the fierce fighting broke out between Myanmar security forces and Arakan Army (AA) members on 29 February.

On March 1, the bullet injured body of U Maung Saw Lwin (47 years old) from Shwe Lay village was found in a hole nearby his house where he was buried hurriedly.

Next day three bullet hit bodies (two Rakhine and one Muslim national) were observed by local residents in a hole nearby Yangon- Sittwe highway where they were too buried together.

The victims were identified as U Maung Kyaw Khaing (36) from Lat Than Shay village, U Maung San Htay (36) from Kjwe Tay village and Arbi Arlong (23) from Buta Loon Muslim village under the same township.

U Maung Kyaw Khaing's wife U Mya Than accused that Myanmar army personnel committed the crime.

"My husband was a daily wage earner at a fishery company owned by Maung Pru Chay from Shwe Lan village. On 29 February, when he was working some soldiers entered into the fishery compound and arrested him. Later he was taken to an unknown place by a military vehicle. Since then, we did not have any information about him," she said adding that the villagers discovered his body yesterday.

All the bodies were later taken to Mrauk U township hospital for the autopsy.

Buta Loon Muslim village leader U Larluu informed that one of the bodies was found along with two Rakhine villagers from a hole near to Shan Taung village.

"Arbi Arlong was a fisherman. On that day he went to sell fishes and then a group of soldiers arrived there to accuse them as being involved with the landmine attacks on a military convoy. Later he was taken along with some Rakhine nationals. His body was discovered on Monday," added the Muslim leader.

According to U Larluu, six villagers from Butaloon village were killed in the fighting. Another group of six villagers remained missing. Over 13 were injured in 29 February incident.

U Maung Saw Lwin's wife Daw Nge Ma Chay said that his body was found in a hold near to her house.

"I could see his bullet injured body with a broken neck. As the hole was small, his body was not fully covered. I believe he was killed by the soldiers," she asserted.

However, Colonel Win Zaw Oo, spokesperson of western command headquarters, denied the accusation and claimed that the army personnel would not kill anyone.

"It is true that there was a clash between our soldiers and AA rebels near Myaung Bwe under Mrauk U township. But I have no information about the civilian deaths. Our soldiers would not kill civilians," asserted the spokesperson.

According to a Rakhine Ethnic Congress report, nine civilians were killed so far and 13 villagers had gone missing. At the same time, 18 people are wounded as an incident of gunfights broke out following AA members attacked a security convey with mines and small guns.