Fierce fighting continues in Ann and Kyauktaw Townships forcing people to flee their homes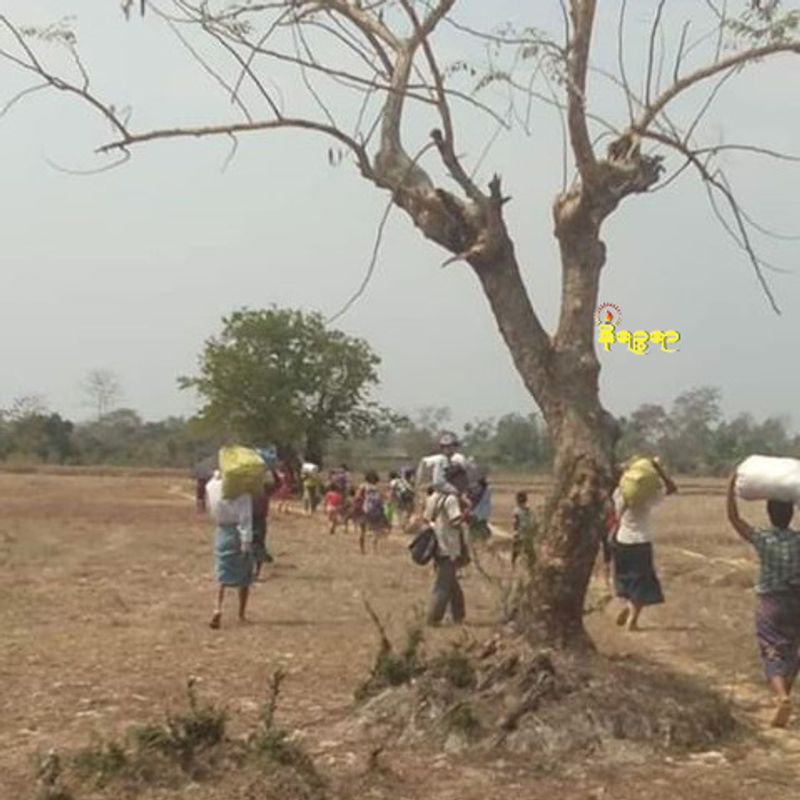 Chit Ee Hlaing
Narinjara News, 9 March 2020
Terrified residents continue to flee their homes following heavy fighting between the Tatmadaw and the Arakan Army (AA) in Ann and Kyauktaw Townships, Rakhine State.

According to one village elder, residents abandoned their homes and fled their homes after shelling and small arms fire that occurred close to Da Let villages in Ka Zu Khaing village tract, Ann Township on March 6 from 10pm to 11pm.

One village elder from Da Let (Old) village said "Fighting started at around 10pm Friday evening, at the stream about a mile away from the village. The shooting stopped around 11pm. When people heard the sound of shelling this morning they just ran. Some people stayed behind. The people who fled went to Da Let and Kan Htaung Gyi."

Da Let (Old) village has a population of around 300 households. Only 40 or 50 households remain as most people have now abandoned their homes. Hardly anyone stayed behind, and no one dares go back in. The few who decided to stay watch over their cattle and buffalos. If the fighting continues and the village is shelled, they won't be able stay. They're thinking about whether or not they should leave their homes too, he said.

"Currently, no one can go down to the creek. No one can go out of the village to the hills. Everyday there's fighting. There's no work now. Whatever food and water we have left is divided up and shared out", one elderly woman from Da Let village said.

U Kin Than Aung, administrator for Ka Zu Kaing village tract which is close to Da Let creek, spoke with Narinjara that "We can hear the sound of shooting. Yesterday we could hear the fighting for the entire day. We can still hear the sound of shelling now. Yesterday there was fighting on the bank of the Hpa Yone creek, in the evening near Ka Paung hill and also at Gyeik creek. We could hear the sound of fighting at three places, and can still hear it now. It's not the same place each time though. There was sporadic shooting for the whole night. They've been shelling since early this morning."

Hpa Yone Chaung village and Ohn Tay villages are both close to where the fighting is taking place are now deserted. In Gyeik Chaung village, 160 households – over 700 people have fled for safety, he said.

"No one's left in Hpa Yone Chaung and Ohn Tay in Ka Zu Kaing village tract. On around March 3, over 100 people from Gyeik Chaung village fled their homes and went to Ka Zu Kaing. Some went to Ann town. I know one or two families arrived today. We should know the population figures this evening" U Kin Than Aung said.
In Kyauktaw Township, the village administrator for Pyaing Taing explained that ongoing fighting this morning meant that some civilians were trapped in the village and couldn't leave.

"There was fighting so they fired into the village. We got out of the village yesterday when it happened. We just couldn't stay there, but there's more than 30 people remaining there. When we left yesterday helicopters were shooting, and they said the same thing happened this morning. They said the people haven't got out yet. After the clash, the Burmese army begun shelling from the Ngan Taung hills. They were firing into the southeast of Pyaing Taung village" the village administrator said.

He mentioned that although one of the elderly villagers left in Pyaing Taing wanted to leave, they were unable to escape.

"When the shells landed in the village, no one dares to stay. You're thinking are you able to get out? Can you continue to stay? Shells landed on the bank of the creek close to the village. Those who stayed are guarding the village, taking charge for the community. Even some families with children have stayed behind. The elderly and infirm have stayed behind. They've been shooting for the entire day from near Ngan Taung hill and also they're firing from a place near Kyauk Tan. Our village lies in between. We've abandoned the village, we didn't dare stay any longer" the village administrator said.

It is reported that Pyaing Taing village has a population of nearly 1500 people, about 257 households.

Concerning these two incidents Narinjara made repeated attempts to speak to both the Western Regional Command spokesperson Colonel Win Zaw Oo and Tatmadaw True News Information Team secretary, Brigadier General Zaw Min Tun, however they could not be contacted.